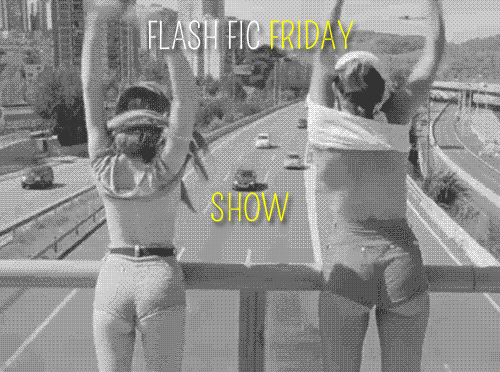 Picture prompt and Judge this week is: Twilover76
THIS WEEK'S NEW PROMPT
You will have until next Wednesday at 9 p.m. EST to submit your entry.
Please leave your submission in the comment section at the bottom of the post using this format:
Your name (use your Twitter, Facebook or FFN name)
Your link to your FFN profile if you choose to share it
Submissions will be judged on Thursdays and on Friday the winning entry will be posted here, on the TLS blog.
This feature is open to everyone, so come one, come all!
LAST WEEK'S PROMPT AND WINNERS CHOSEN BY PAWsPeaches:
I gotta say... I didn't think I was going to have any entries at all. And then... you guys surprised me. Thanks to everyone who took the time to drop by and show me your words. Some of you had me wanting to track you down and pm you immediately, to beg for more. I wanted Max-fic and you over-delivered. I love these entries. You're all winners.
Chocaholic123
@chocaholic12345
Word Count: 300
...
He's standing in the corner when I see him. There's a cigarette resting on his bottom lip, and his thick, sandy hair is fucked up from too much raking. Somebody touches his arm; sharp, red talons curling around him like he's prey, and I have to stop myself from screaming.
A softer touch on my own wrist; I turn to see my son looking at me. "I was wondering when you'd get here."
I swallow down the bile that's rising up my throat and turn to Jack, smiling at his happy face. "It's your degree exhibition, Sweetheart. I wouldn't miss a thing."
"Did you see Max's stuff?" He points to the nudes hung around the room. They're perfect; pale pink flesh brought to life by a master.
"They're good," I murmur, feeling strange when I see my own body reflected back at me over and over again. "But not as good as yours."
Jack laughs loudly. "He's out of my league."
Him and me both.
I spend the evening hiding, stepping behind installations, avoiding his notice. It almost works, until Jack's tutor spots me. His loud hail causes everybody to stare.
But cerulean blue is all I can see.
The world stops. Clocks don't tick, rivers don't run. I stand like a frightened deer when his eyes catch mine. He walks toward me, his swagger cocky and knowing. I grip my glass so tightly it almost breaks.
"You're here." Max leans forward to brush his lips against my cheek, pausing by my ear, his breath dancing on my skin. "You look fucking incredible."
I blush and pull back too quickly. He can see the way my nipples pucker beneath my sheer dress. His bottom lips fall open as he grabs my wrist, fingers tight against my flesh.
"I missed you."
2nd Place
DH78- http://www.fanfiction.net/u/2231937/DH78
Word count: 296
It started with a simple glance.
"Here you go." The guy I've been chatting with hands me a beer.
Not even his offering can make me break eye contact with this man.
This shining star.
This beacon.
The way he leans against the railing listening to the small gathering of people who seem to be just as drawn to him as I am right now.
He answers them. A drag from his cig... never taking his eyes off me. His answering smile is bright, dimpled and sexy as hell.
He's caught me in his web.
I'd barely escape his hold if I tried.
I don't want to escape.
I remember the feel of his lips.
I remember the feel of his smooth skin over the tight muscles of his back; his thick, wavy hair through my fingers as I tugged and pulled.
His warm, calloused hands setting me on fire.
The slight animalistic growl in his voice when he entered me, fucked me.
The velvety lilt of his accent after we lay there, speaking words of want; words of satisfaction in the dark.
Here I am... here we are. Again. An ocean of time between us. But it still feels like yesterday.
I break away from the connection when the guy talking to me calls my name.
"Hmm? I'm sorry?"
"Oh, I was just wondering if you maybe wanted to grab something to eat later?"
I'm about to turn him down when a strong arm snakes its way around my waist. The feel of him scorches every inch of me through my dress.
"Sorry. She has plans," he says, whisking me away.
"I thought I could stay away," he whispers leading me to my destiny. "I'm mad for you."
And I know...
I won't say no.

3rd Place
Bebe Ginja
@bebeginja
Word Count: 299
"Come to me tonight. I must have you." King Edward whispered into my ear.
I curtsied low before him as our dance ended. The court had already feasted, but the king, I noticed, was still hungry.
"Yes, Your Grace," I replied.
Who am I to deny my king? I am only fifteen, and although I know the risks my consent carries, I also know in my heart that I must have him, too.
I knew it from the moment I saw him.
Now, I sneak my way to King Edward's door. The guards ignore me—they must have been warned.
I enter his chambers, and my king stands in his undergarments in front of the fireplace. He is tall, muscular, and simply god-like.
"What is your name?"
"Isabella, my lord."
"Let me undress you."
As he unlaces my dress, his knuckles graze my bare shoulders, sending shivers down my spine. I turn to him and let my dress fall, let my hair down.
"So beautiful," he sighs. He cups my chin with his hand and kisses me full on the mouth.
"Am I your first?" he asks between unhurried kisses to my neck.
"Yes," I breathe, feeling my heartbeat everywhere.
"Then I shall make it memorable."
I lay on the bed before him, his body glowing in the firelight. His eyes, dark with lust, are in complete contrast to the playfulness of his smirk.
Despite his scandalous reputation, I am delighted to find that my king is gentle, and indeed quite gracious.
His fingers inside me force his name quietly from my lips. And, later, as he hovers over me, his name is an anthem, an incantation, a hymn, and a prayer.
God, forgive me for what I have done.
I am in love; in love and surely ruined.

4th Place:
CullensTwiMistress
http://www.fanfiction.net/u/2593677/CullensTwiMistress
Word count: 300
...
He walks toward me, his smile radiant and his bright, green eyes crinkling at the corners.
I can't help but smile back.
I watch him as he watches me.
I bet my view is way better.
He licks his lips and his Adam's apple bobs as he swallows. I want to lick it, or gently bite it. I imagine the scruff from his five o'clock shadow tickling my lips, and squeeze my thighs together to relieve the ache between them.
He runs a hand through his wavy, messy hair and I groan, longing to do the same; wishing I was that hand.
His eyebrows rise up as he approaches. "Hey, Bella, what are you up to?"
I shrug. "Not much. You?"
"Same." His lips wrap around each word.
I bite my lip hard enough to stop myself from telling him what a huge crush I have on him and how I wish he'd kiss me already and take me out of my misery.
Instead, I say, "I was just going to get a coffee. Want to stand in line with me?"
I am lame.
But the smile he gives me eclipses the one from moments ago. "I'll follow you anywhere, Bella."
My toes curl and my insides quiver as he extends his hand toward mine.
Gulping, I nervously slip my palm against his. "Okay."
I look up at him shyly and the way he's beaming down at me tells me that maybe there's a chance.
We walk inside the coffee shop together, confidence radiating off of him in waves.
My hand never leaves his as he orders our drinks. He charms Mrs. Cope into giving us free scones and offers to feed me because my hands are full.
That's when I know I'll get to taste that tempting apple someday.
Honorable Mention
Maiqui Mycel Tameta
@UnderageDreamer143
I took a long drag of the brightly lit cigarette between my fingers. I looked at her. Tears streaming down her beautiful face across from me.
I heard every soft whimper that chose to escape her lips.. every silent prayer she cried out to a god who restricted her rights because of her sexuality.
My arm leaned against the door frame as I surveyed the damage I'd done.
"F*ck!" I exploded.
My hands grabbed my sand colored hair in a vice grip. I punched the wall more than once. The ache, caused by the force my hands were under, was nothing compared to the pain in my heart for her. It's all because of her.
I kept punching the battered wall when I felt two small hands around my waist pleading for me to stop what I was doing. I punched the hole once more before I turned to face my blue-eyed angel.
I grabbed her face between my palms. I kissed her lips in hunger for her love. My tongue grazed over her bottom lips, begging for entry, hoping that she would return the same passion and intensity I poured into that kiss; pleading in it that she would feel the same.
"Come with me," I whispered, already knowing that her answer would be no but I kept trying.


"My life is here, Max."
I turned away and let out a mocking laugh. My body tensed with anger.
"A LIFE…WITH LIMITATIONS… IMPOSED BY A COUNTRY… CULTURE…RELIGION THAT YOU DON'T EVEN CARE ABOUT!" I answered before falling to my knees in front of her.
Tears streamed down my face as I kissed her stomach where our Little Miracle laid.
"Come with me, my beautiful girl… please," my voice breaking.
"Don't give him up.... Don't give us up."