We are happy to bring you the bi-weekly TLS tested and approved Fic Rec list. The following stories hit our radar and we wanted to share them with YOU!! Check them out and leave the author some love & tell them where you saw their story!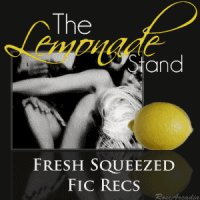 A Southern Gentleman by Mrs. Brownloe-rec'd by VampsHaveLaws
https://www.fanfiction.net/s/9889055/1/A-Southern-Gentleman
Honor, duty and gentility were the guiding principles of a southern gentleman. So, there was only one thing to do when Edward discovered the truth of something that happened long ago, something he was honor-bound to repair if it took him the rest of his life. Rated M
Ahoy, Love! by Katinki-rec'd by Evilnat
https://www.fanfiction.net/s/10016775/1/Ahoy-Love
One big, white boat, one unfortunate tropical storm, a few too many bottles of booze, and two single thirty-somethings hanging out, maybe falling in love, and trying to not lose their minds amidst the endless rounds of shuffleboard and Bingo. Just a bit of fluffy summer fun to take the bite out of Old Man Winter. AH. Rated M
Badlands by Planetblue-rec'd by Six/Nic/Evilnat
https://www.fanfiction.net/s/10011982/1/Badlands
Moonlight drives and sharpened knives. This is the story of us. Rated M
Drinking Problems by Badjujube-rec'd by Evilnat
https://www.fanfiction.net/s/9112829/1/Drinking-Problems
"How can you teach a vampire to abstain from humans?" I asked Carlisle. "Starve them and take them to the zoo?" He shook his head at me and smiled. "Rehab," he said. Rehab for vampires. It was the worst idea I'd ever heard. Rated M
Fire & Ice by Drotuno-rec'd by Evilnat
https://www.fanfiction.net/s/9779631/1/Fire-Ice
FOURTH in the Gravity Series. When one of their own is threatened, the crew will have to travel halfway around the globe to get them back. What they find will have them racing against the odds to save more than just one life. AH E/B Series. Rated M
Flavor of the Week by JennaReads-rec'd by Sixdlb5/Nic/Evilnat
http://www.fanfiction.net/s/8932980/1/Flavor-of-the-Week
Edward's a breath away from losing his dream of a successful college football career and a chance in the NFL. Bella's just trying to make it through college without losing her mind in Edward-inspired fantasies. When these two goals intersect, all's fair in love and football. Rated M
He Said, She Said by Araeo-rec'd by Edmazing
https://www.fanfiction.net/s/9933548/1/He-Said-She-Said
Boy meets Girl and sweeps her right off her feet – which just happen to be slightly slutty when it comes to a certain tall, dark (and slightly gingered) piece of walking sex, who decides to pursue her without mercy. A fluffy novelette about a girl who does something questionably stupid, yet lucks out incredibly by finding her Mr. Right. All human. Utter nonsense. Rated: M
Look How You Turned Out by Counselor-rec'd by Everyfreakingbody
https://www.fanfiction.net/s/9826376/1/Look-How-You-Turned-Out
If I was going to write another story it would be something like this...
Rated M
Oh Brother by Robzbeanie-rec'd by GeekChic12/Nic
https://www.fanfiction.net/s/8507899/1/Oh-Brother
Shy, orphaned Edward comes to live with his older brother and his wife to finish out his last year of high school, bringing with him a seven-year crush on his sister-in-law. ** TASTE OF THE FORBIDDEN CONTEST - Honorable Mention Judges Vote, Judges Favorite from SoapyMayhem ** Rated M
Removed by JiffyKate-rec'd by Nic
https://www.fanfiction.net/s/9839021/1/Removed
"Every ending is a new beginning." Originally written for the Mark Me Contest. Rated M
Slapshot by Prettykittyartist-rec'd by Remmy/Jenn Granat
https://www.fanfiction.net/s/9174767/1/Slapshot
He comes in for the stale coffee and the girl behind the counter. She lives for the moments he walks though her doors. Can she snag herself a star? Can he handle being caught? HOCKEYWARD EXB Fictionista workshop witfits April 2013. Rated M
Small Bump by Thimbles-rec'd by Capricorn75/VampsHaveLaws
https://www.fanfiction.net/s/9612494/1/Small-Bump
Pregnancy is an entirely natural process, one I'd studied and seen in all its stages. Yet in that moment, knowing that Bella was carrying our child, a little person somehow knit together from her and me, and the love we shared, it seemed a strange miracle—she seemed a strange miracle. Life, loss, love, and hope. (Angst rating applies to Ch. 1 only.) Rated M
Snapshots by LyricalKris-rec'd by Capricorn75/Nic
https://www.fanfiction.net/s/9959272/1/
When his older brother walked out on his girlfriend, Bella, on the worst night of her life, Edward was there to pick up the pieces. Jasper breezed back into town after being missing for three years to find his family had reformed around the hole he left behind. Rated M
Spin & Sway by Pattyrose-rec'd by Sixdlb5/Nic
https://www.fanfiction.net/s/9984328/1/
Sometimes, no matter how strong you are, life deals you blows that are too heavy to carry on your own. Sometimes, no matter how fragile you feel, you're the only one who can help bear the load of another. Sometimes when strong and fragile collide, the world spins and sways. Rated M
Superhero In The Stacks by Lellabeth-rec'd by Evilnat
https://www.fanfiction.net/s/9635457/1/Superhero-In-The-Stacks
'He's beautiful, but he doesn't notice me. Nobody does.' Bella's insecurities have forced her to hide away from the world, but her Library Boy changes everything. For Sophiacorgi. Rated M
The Best Mistake Of All by MrsK81-rec'd by Nic
https://www.fanfiction.net/s/9816957/1/The-Best-Mistake-Of-All
Living the perfect life with no cares or responsibilities suited Bella just fine, but her family had other ideas and all of a sudden everything was changing... and not necessarily in a good way. One last night out, one quick escape through a bathroom window, one assumption about her new boss plus so many other things proved to be one mistake after another or so it seemed. Rated M
The Donor by Alchemilla mollis-rec'd by Capricorn75/Nic
https://www.fanfiction.net/s/9932991/1/The-Donor
Novelist Isabella M. Swan is pushing thirty and seeking fertility treatment. Her vampire husband can't exactly contribute. Bella tests the limits of Edward's devotion when she plays off colleagues, fans, and her husband's trust in order to achieve her goal. Rated M
The Dress by Redtini-rec'd by Nic/Pullymydaisy
https://www.fanfiction.net/s/9643272/1/The-Dress
Edward Cullen: Successful, arrogant, dominant, whorehound. Bella Swan: Confident, ambitious, seductress, workaholic. Two COO's with one goal: To stop at nothing to reach the top. Even if it means pushing the other person over the edge. A/H. Rated M for Lemons, Language and everything in-between. One Shot entry for the Dirty Talkin' Edward Contest. To be continued. Rated M
Vespers by Spoons are for marmalade skies-rec'd by VampiresHaveLaws/Nic
https://www.fanfiction.net/s/9793470/1/Vespers
A tragedy leaves Bella in a spiral of strange events. She's more confused than ever when a hot, magnetic lawyer offers a distraction from the tangled feelings she has for her oldest friend. Rated M
Yes by GeekChic12-rec'd by Drotuno/Nic
https://www.fanfiction.net/s/9922916/1/
"He talks to me sometimes. I mean, it's usually sort of one-sided, but… every once in a while, he'll make eye contact with me, and I feel like I've won the lottery or something." All human. Dedicated to lellabeth. Rated M