A special thank you goes out to Ed Mazin, Nicffwhisperer, Evilnat, Surething302, Jaime Arkin and VampsHaveLaws for working their asses off with me, over the summer, to keep this place up and running.
Another shout out to all of you amazing GUEST REVIEWERS! Your generous time, and wonderful reviews help TLS stay afloat while the summer months pass us by. If you are interested in helping TLS by being a guest reviewer, please comment on this post with your contact info or simply click the contact button to send us your contact info privately.
Thanks to all,
PAWsPeaches
CONGRATULATIONS TO THIS WEEK'S WINNERS:
TLS Fics Of The Week
Dear Veronica by Cosmogirl7481
1994 was the year that The Cranberries lingered on our radios and Jordan Catalano was still the hottest boy we could imagine. But it was also the year that Bella Swan decided to keep a diary. A record of her actions. A place to share her thoughts. Twilight - Rated: M
Cosmogirl7481 is doing it again… entrancing me with her words and reminding me why I fell in love with her in the first place. The year is 1994… and I can openly admit that I was well into my teens by that point. Cosmo reminds me with every chapter what was so wonderful about being seventeen and having that first crush, skipping class, sneaking out, and going on that first date. In Dear Veronica, we first meet Bella through her diary. Only she's not calling it a diary because diaries are for 'little girls with pink bedrooms and fluffy slippers and moms who tuck them into soft beds at night even if the little girl complains that she's too old to be tucked in." and that most definitely is NOT Bella's life.
Cosmo has managed to create a story that has realistic characters in real and believable situations. I think this is one of her talents as a storyteller. She can take these characters and without making them over the top or twisting them so out of shape that they aren't recognizable anymore, tell us a completely unique story.
I love the different way this story is told too. By weaving into the story chapters where Bella is writing in Veronica, we get to know those secrets she thinks she's only admitting to herself, the things you would never say out loud or even tell your best friend. This allows us to have a glimpse at those forbidden thoughts,
I totally want Edward to feel my boobs. I hope that doesn't make me a slut. But I really, really want it. I think that would feel amazing for him to do it while he was kissing me. But then, I wonder what he might expect in return. I mean, Edward doesn't have boobs. There's not really anything PG-13 to grope on his body. What if he wants me to feel his dick? What if he wants me to suck it like Mike Newton?
But it's not all daydreaming and swooning for Bella. Her life at home isn't that of a typical teen. She has way more responsibility on her shoulders than any teen should have:
"Tell him! I don't care," I rage. "Tell him everything. What's he going to do? Ground me from working at the diner? Oh, I know! Maybe he's going to ground me from cleaning the apartment and doing all the laundry. Or maybe he's going to ground me from all the cooking. Please, Emmett. Tell him. Tell him everything!"
"No," I hiss, jumping up from the bed, adrenaline pulling through me. Edward might have been scared of my brother but I'm not. "How could you do that?" I ask. "How could you… embarrass me like that? Isn't my life embarrassing enough."
That bit of sadness aside, if you all know me, you know I love swoons and cosmo gives it to me in this story like you wouldn't believe… we get first touches, hand holding, sweet notes and first kisses…
"Oh Veronica, it was the best kiss I could have ever hoped for. He was so quiet and sweet and his lips were so very soft when they kissed me. And that was all that he did. Just kissed. He didn't stick his tongue inside my mouth or try to swallow my face like I've seen other boys at school do to their girlfriends."
So, you may or may not know this, but this story came as a surprise to us pre-readers and I never thought I'd say this, but I love being on the other side of the story – don't get me wrong, I love being her pre-reader, but by not seeing this before it's posted, I'm right there with all the other readers, experiencing it as everyone else does when she posts the chapter. (dear Cosmo this does not mean I don't want to pre-read LOL) So… I thought it might be fun to ask a couple of my fellow pre-readers and get their thoughts on what they love most about the story since we're all seeing it at the same time and response was really that this story is relatable and we all have been there…
Laura says ' I love how Cosmo has captured the spirit of almost every seventeen year old girl I ever knew, myself included. Everything is such high drama at that age, your issues and problems are of the life or death variety, even though in hindsight you realize they weren't. There's something so fun and indulgent about going back to those times and reliving them through Bella.
Also, I love the humor and the sweetness and even the innocence. All they've done is kiss, and only a couple of times with tongue, lol, and I am swooning like crazy."
Kourt says Dear Veronica is all of us....we have all been that girl who as a crush...that teen who is filled with all the emotions of a first love, Bella is relatable, she is that girl. Every girl loves the mysterious hot "bad boy" that really is not that bad....Edward is that guy. Cosmo hit the nail on the head with this one....like she always does.
If you're not currently reading this story you must run – with twenty nine shorter chapters posted you'll find references to Friends, Grease 2, Family Ties, Drakkar Noir and even Bill & Ted's Excellent Adventure weaved into a sweet story of firsts told in a unique and wonderful way, you'll read this wondering how Cosmo has managed to capture exactly how you felt back then and at my age, it's lovely to be reminded of those things.
Such Great Heights by SydneyAlice
Edward Cullen is in desperate need of a nanny after his wife walks out on him and their five-year-old son. Bella Swan is a teacher with no job prospects. Can she find her true place in the world while helping father and son overcome their pain? AH Twilight - Rated: M
Reviewed by: Savannavansmutsmut
Bella has finished school, obtaining her teaching degree in elementary education. After trying everything to get a job, she realizes she's not going to find one for this coming school year and is basically screwed. She decides to wallow in herself pity, which is humorous. I won't give it all away, but I will give you a taste.
So here I lay. Spoon in mouth, ice cream carton in hand, watching GSN. And I am one of the most highly recommended unemployed teachers in the greater Seattle area. Go me.
Thankfully, Rose and Alice decide to butt in, literally; they nearly have to knock the door down to get to their wallowing friend. To survive Bella's wrath and soften her up for the job proposal, they bring wine and cheesecake. The question is will it be enough?
"We have a job opportunity for youuuu…." Alice sang in her high, lilting, annoying voice.
Rose's eyes sparkled. "In a matter of speaking. Kinda. Sorta."
"Don't be picky, Swan. You need a job, don't you? I know someone who is needing help and is willing to hire you. The pay is excellent. Much more than you'd be making dealing with a classroom full of snot-nosed kids every day. Plus, I gave you a glowing recommendation."
"And the best part is you'll be working with a child," Alice smiled gleefully.
Edward's wife has left him for another man, leaving him with their son and no intention to come back or even see her son. Edward has no idea how to raise a child and decides to keep to his absent wife's insane schedule and ridiculous rules.
The décor was very contemporary and, of course, immaculate. A grand piano rested in a corner that was flanked by windows overlooking the terrace. A plasma screen – at least fifty inches – graced the far wall. Intricate pieces of art were scattered about, and oil paintings surrounded the room. The place was like a museum, and I was literally afraid to sit down on the leather sofa. I glanced around, looking for any sign that a child actually lived here. But there was nothing. No coloring books. No toys. No stuffed animals.
"You look confused," Carmen (the maid) noted as we made our way toward the study.
"I was just wondering….does Riley play? I haven't seen anything so far that would even signify that a child lives here."
"Mrs. Cullen required Riley to play in his room," Carmen explained, her tone hushed and clipped. It was obvious the sweet maid wasn't a fan of the wife, either. "Playing wasn't exactly encouraged until Mr. Cullen came home."
"Mr. Cullen likes to play with his son?" This surprised me. And encouraged me. "What do they do?"
"Oh, they paint. Read books. Color. Study French."
I stopped in my tracks. "French?"
"Yes. Riley is expected to be well-cultured."
"He's five! He's just learning English!" I snapped angrily and immediately covered my mouth with my hand. "Sorry. I shouldn't have said that."
Even though Rosalie swears Edward's son, Riley, is the cutest little boy in the world, it turns out that he isn't necessarily well behaved.
"Just shut up and listen," Rosalie snapped. "Riley has gone through four nannies in the last month. I mean, these girls have run screaming from the apartment. They don't even leave an address so that my brother can mail them their paychecks."
Edward is sure that Bella will fail because she has no nanny experience, but she did study to teach elementary school-aged children and was determined to get the job, not necessarily for the money, but to help little Riley be a child and teach him to get messy.
Of course, Riley is doesn't want a new nanny and immediately gets to work on trying to get rid of her.
"I'm Bella. I'm your new nanny."
He stared at me for a few moments and I felt like a science experiment in a beaker. His eyes roamed up and down before settling back onto my eyes.
"Go away," he spat angrily as he pulled the pillow out from under his head and tossed it in my direction. I turned my head as the pillow nearly hit me in the face, and I watched in surprise as it fell to the ground.
I glanced back at the little boy. He was glaring at me with this father's beautiful green eyes, and I immediately understood what was happening here.
How fast could he get rid of the new nanny? How quickly could he scare away this one?
I squared my shoulders and looked at Mr. Cullen. He was watching me expectantly, as if he was willing me to work my voodoo. Wave my magic wand.
Of course, she shocks little Riley by not being upset at all and they discuss all the things that you can throw, exciting the little boy.
After a couple more incidents that day, Edward is sure Bella is going to leave, but there's no way she's leaving this little boy to a life of cold walls and French lessons.
"Yes…" I whispered in surprise, "Unless you'd prefer me not to be?"
Confusion flashed across his face. "No, no. That's not what I meant. I'm just surprised, that's all."
Bella is attracted to Edward; let's face it, who isn't. Even though Edward is attracted to Bella, he fights it off, still gun-shy from his failed relationship. He's determined to learn to be a better parent and wants to keep his focus on his son. He's sure that keeping his distance from Bella is the only way to do that.
As he watches, little Riley accept Bella, who takes on a mothering role and teaches his son to be a child. Edward realizes Bella knows what she's doing and lets her educate him on how to be a great father. His resolve slowly is broken down and he eventually gives in, letting himself fall in love with Bella.
Of course, every good story has a little angst. Edward's gold-digging wife decides to pop in, creating a mess of drama, causing Bella and Edward to have to put there sexually-charged relationship on hold to keep Edward from losing everything, including his son.
This wonderful story is complete. It's full of humor and fluffy, with a little angst thrown in for good measure. It's an awesome read that you won't be able to take a break from. Get your snacks ready and go potty before you sit down because you won't want stop reading this masterpiece. This is one you're really gonna love.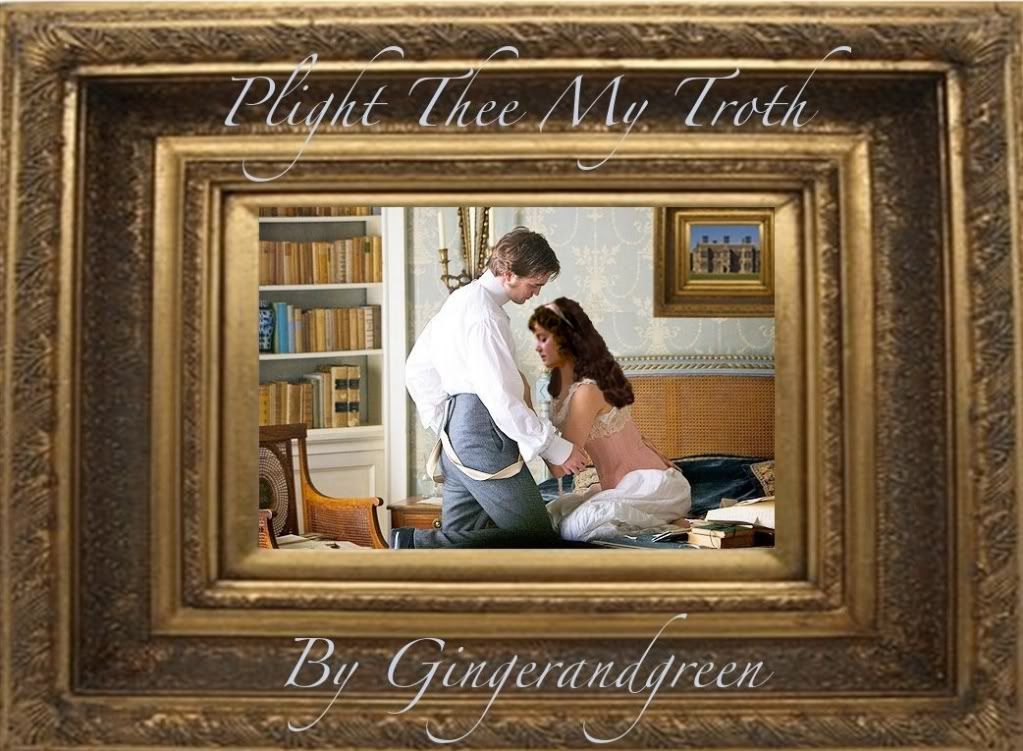 Plight Thee My Troth by Gingerandgreen
England, 1795. Lord Edward Masen and Miss Isabella Swan promise to love one another for all time; but will the harsh realities of life allow two souls from very different backgrounds to fulfil their vows? EPOV, AH Twilight - Rated: M
Where do I start trying to explain the beauty that is Plight Thee My Troth? Reading this story transports me to a time where men were chivalrous. Where women were delicate, soft spoken creatures that showed grace throughout any circumstance. Even though I am a modern woman there is something about this time that draws me in, something is the pictures that Gingerandgreen's words paint that make me want to be a part of this era.
Edward Masen, Lord of Forbrigg, is visiting his cousin Emanuel in Seat and while riding comes across two beauties that Emanuel greets as Goddesses of the Manor. Miss Swan and her sister Miss Isabella Swan are out enjoying a walk. Lord Masen is struck by how much Isabella is affecting him; her laugh and innocent touch make him feel things that he is unaccustomed to. We meet Mr. Black, vicar of the parish, and it seems that he has a vested interest in Isabella. Questions fly at her and she answers with quiet responses. Lord Masen is annoyed by such patronizing questioning but doesn't say anything, wondering what claim Black has on her. Little does he know that the main reason he is there is to help Emanuel secure his bride, Miss Swan. Charles Swan required Emanuel to find a match for Isabella.
"What do you think of Miss Swan?"
Em's question is not what I expected to hear. I know what he wants to hear, though. I look at him, and I know.
"She is beautiful. And sweet and kind and graceful, and she is utterly in love with you Em. She looks at you as though you are her world. You will make her very happy, my friend, and she you."
He nods, determination written on his familiar features.
"I asked for her hand, and she accepted me. I want to make her my wife before Carlisle passes, it means so much to him to see me settled happily; and you've seen him, Edward, there is not much time remaining."
"So what holds you back? Is it Swan?"
"Aye. The man's a schemer, a pirate. He refuses my suit unless I can find an equally propitious match for his younger daughter."
"I don't understand you," I am shocked by his anger; he has shown no sign of it till now. "Are you saying Swan has turned you down?"
"Not at all, or yes, he has, but it's not that he does not wish the marriage to go ahead. He thinks I will make a fine son-in-law. " He mocks the man with his emphasis on those words, the slight country accent that touches Sir Charles' speech exaggerated by Em's bitterness.
"So he wants you for his son but will not have you marry his daughter? I am still baffled, Em."
"He wants more. It is his defining characteristic. Whatever he has, the man wants more. The fool is a cheapskate. He hardly pays his servants; and when he is not out to catch important guests, he barely feeds his family. Rose and Isabella have not once left the environs of Wiltshire, Edward, not once. He keeps them prisoner in their own home. And though he has promised Isabella's hand to that idiot he calls a friend, he wishes me to obtain a better husband for her before he will allow Rose to be my bride."
The implications of this tirade take some minutes to permeate my understanding."Swan intends to auction his daughters though he has promised one of them to another? Surely you are mistaken..." I trail off at the look on Em's face. He is not mistaken.
I am struck again by a bolt of understanding.
"Me? He wants me to marry his youngest daughter?"
"I believe he would approve the match. Yes."
"Em, did you ask me to come here to see Carlisle or to assist you in the purchase of a young bride?"
He drops his head into his hands, clutching at his hair. "Both." I can barely hear him. I am stunned into silence.
Even though he is upset by what Emanuel did he is torn because he feels he can't just take another man's fiancee, but wants to help his cousin marry his true love. Having to leave to go back to Forbrigg to handle an emergency, Edward acts impulsively and asks Isabella to be his wife. She says yes, but there is some anger about it from Black.
I apologise for not writing sooner, my father has been away. Thank you for the beautiful shawls.
My sister begs me thank you on her behalf. The colours are exquisite, and Father tells me they are from the East. I was not able to give Mr Black's shawl to my mother as he took back his gifts to me as per your instructions.
Will you attend my sister's wedding? I pray for the well-being of your staff and estate every day.
Alice, our maid, is very ill. May I humbly request that you add her to your prayers?
I received your last today and was a little concerned at what I read. Firstly, I am glad you liked the shawls, which were indeed from China, but that is beside the point. Mrs Clearwater assured me they were my mother's favourites, so I wanted to send them to my favourite ladies. I imagined the blue colour against your pale, lovely skin and your beautiful hair; and as I picture you in it now, I know that it will be very hard to wait to actually see you wearing it.
Secondly, you must know that I have never asked that Mr Black withdraw his gifts to you, but now that I know that he has, I confess to being pleased. Will you do me the honour of listing all that he has taken from you, so that I may replace it immediately?
Your prayers for me must have been heartfelt because I am happy to tell you that I have this evening found a replacement for Mr Eccles. I am so confident in my choice that I hope to be able to return to Wiltshire in about ten day's time. My brother will accompany me. He is anxious to meet you, and we will stay until my cousin and your sister are married.
Forgive me, Angel, but I do not recall having met Alice. You sound very concerned about her. I will indeed add her health and well-being to my prayers.
Please write to me soon with your list so that I may return to Wiltshire with full hands.
Edward returns and soon after they are wed. There is so much more that goes on and I want to tell you, but I really think you should read it first hand. The beauty of their budding romance makes you want to swoon. I will leave you with this little tidbit and urge you to go and read.
My mouth lowers to the crook of her shoulder, which I cannot help gently sucking. She shifts her bottom on my lap in response, and blood rushes to my cock. I know the instant that she feels me, because her spine stiffens and her breath stills.
My teeth graze up her neck to the lobe of her ear, velvet soft in my mouth. I nibble and suck before whispering to her, "Beautiful Bella, you entice me so. Do I excite you too?"
"Yes," she breathes. My cock hardens even more. I reach down to her ankle with my free hand and pull her dress and petticoats up her legs and over her knees, until the bare skin of her thighs is exposed. The thought that I have every right to bare her flesh and take possession of it crosses my mind, and my heart beats hard in my breast.
My fingers trace the shards of sunlight dancing on her skin where it falls through the window. The light musk of her perspiration fills the masculine-scented air of the carriage. Traces of leather, cigar smoke, beeswax and road dust subsumed by feminine scent – I have to be the most blessed man in England, possibly the whole world.
I lift her skirts even higher. The curls covering her sex are exposed, and I stare at them for several minutes because I can. The only sounds above the rumbling of the carriage wheels as they roll over the rough ground are the quiet pants of my very still wife.
"Part your legs for me, Angel." She obeys me at once, her willingness to please me apparent in every gesture. This excites me too.
I stroke the damp silk of her sex with one hand. My other hand feels its way across the curve of her breast to the stiffened nipple apparent through the layers of muslin she wears. Something between a gasp and a whimper fills the carriage air.
I don't know how long I play with her – it could be minutes or hours, I am so absorbed in her. She is slippery with desire and almost crying with need by the time I take pity on her. With my thumb on her swollen bud and my finger buried deep inside her, I turn her face to mine and claim her mouth, pushing my tongue into the sweet darkness there. I push everywhere, rhythmically, allowing the sway of the carriage to rock her into my hand, and she falls, crying breathlessly into me.
Failure to Thrive by Julesnerd
Bella is sexually unfulfilled after four horrible encounters. She meets Edward Masen, and things begin to change. Edward is sexally insatiable and Bella has been told she's frigid. B/E/AH/AU/OOC. Rated M for a reason! Lemons to follow. Humor/Sarcasm
Review by mauigirl60 – Bernadette Lentini-Jones
I spent an enjoyable Sunday reading this story. The summary sucked me in faster than a Hoover vacuum cleaner. Who doesn't love a good sex story?
Bella and Edward meet in a sex therapist's waiting room. She has been diagnosed with "failure to thrive" and feels she is frigid, as told to her by her previous sexual encounters – who, of course, turn out to be dirtbags. It turns out that the two therapists are none other than Edward's father and brother, who he is seeing also for his diagnosis of "insatiability."
Here's a peek at their first date in Starbucks where they are discussing their diagnoses.
"May I ask you something intensely personal?"
I got lost in the intensity of his green eyes for a moment and failed to qualify my answer.
"Yes."
His brows shot up…..in triumph? "What does 'Failure to Thrive' mean? I assume it's in some sort of sexual context given Dr. Carlisle…I mean… how could a creature as delectable as yourself fail to thrive sexually?"
Oddly I didn't begin blushing. I felt bizarrely calm as I 'fessed up to the whole shameful clusterfuck that was my life.
"Well…my teen years were not exactly…average," I began slowly. "My stepbrother James attacked me when I was fourteen. He didn't rape me…uh… exactly. He was really invasive and rough with me. He used to chase me a lot and it kind of creeped me out. Let's just leave that there for a moment…ok?"
I looked up from the straw casing I was shredding into a mess on the scarred wooden table. He was focusing on some spot on the wall behind me with a very grim expression on his face and his hands were fisted on top of his denim clad thighs. I actually turned around to see what had captured his ire, but didn't see anything out of the ordinary. Swiveling back around, I continued.
"I'm basically a loser magnet… uh…excepting yourself I hope… You're not a loser are you?" I said chuckling self consciously. It broke the tension a little bit, and his shoulders sunk back to a more natural position. He shook his head negatively allowing me to continue, while he sipped his tea.
"Well…that negative experience…seemed to sour me on the whole physical affection scenario. I became anxious in social settings - not wanting to be touched in any way. I never knew what would set off a panic attack. When I had an episode in the gym at a pep rally in front of the entire student body in high school, I decided to seek help. I've been in counseling ever since. Today I had my first hug from a relatively new male acquaintance. I didn't break out into a full body sweat or tremble or have an episode. I'm slowly moving forward. My biggest fear is that I'll have a setback and regress again. There are other things that you don't need to know about. But, that's it… in a nutshell."
After a deep breath, I took a large sip through the straw of my drink and let the cold liquid slowly run down my parched throat, wondering silently what it was about him that had made me share part of my personal history so willingly.
"Thank you so much for trusting me enough to share that." He looked up from setting his drink down again. "It was something so intensely personal," he looked at me steadily. "I value your openness." His hand was resting on the edge of the grey suede armchair and he cracked a few knuckles-single handedly. "However, I get the sense that was the tip of the iceberg…90% of an iceberg is under the surface of the water, you know, most of an iceberg's secrets remain hidden…Was that the extremely edited, safe for viewing before 8pm television version?"
Did he just call me an iceberg? Don't get huffy Bella; Let the man have his analogy- he doesn't know you're clinically frigid. He would never use that turn of phrase if he had a clue.
"If you add one more analogy into that mess I can give you a free toaster… honestly… icebergs and television… what's next? Penguins?" I was deftly avoiding his questions, and I feared he would see right through it. Perhaps he would know I wasn't ready. Instead I parried with my own question.
"Insatiable huh?" I couldn't help grinning. "Is that the clinical expression for a sex addict?"
A horrified look appeared on his face. Frowning, shaking his head and looking down he stuttered, "Nnno. I'm not a sex addict. I'm just going to be blunt, okay? I can… arrive if you will… but after, I'm not satisfied, exactly. It's not the same thing as a man with extreme stamina… for instance…I become obsessive, and it affects my ability to function. Whenever an obsession inhibits you from performing your normal activities, then it's unhealthy… right? I have obsessive compulsions, but I don't have any of the self-destructive behaviors of a sexual addict. I don't want to deal in numbers exactly… but let's say that being with me sexually is frustrating for me and physically taxing for the average woman…I tend not to inflict myself on others. It's more compassionate that way."
"Wow," I breathed. "What a pair we are. You can't get enough, and I can't get off at all," I blurted out in a strangled voice. I sputtered and began laughing. Gasping and clutching the arms of the chair, I managed to get out, "I'm NOT laughing at you…. I swear! I'm laughing at the situational irony."
I really liked the flow of the story and how these characters were written. The UST is through the roof. The dialogue was snappy and this Bella is very snarky and funny; at times, I was laughing out loud at their conversations.
When they finally do have full-blown sex, it is worth the wait. These are two characters that you care about and I was rooting for them both to succeed. Of course, the author took liberties with the diagnoses and treatment but, hey, it's fan fiction, right?
The Selkie Man by DarkBlueBella
AU. A summer studying Scottish folktales leads to Bella Swan meeting a stranger unlike anyone she has ever met. Can she let herself believe that myth and legend might also be reality?
Reviewed by: Ange de L'aube
In a world that's pretty much ruled by science you can have a hard time believing the unbelievable. I know I have at times. We're all skeptic of things that are outside the box, and more than wary of things that sound like legend.
The Bella in this story is the kind of people that feels inclined to rationalize her world. Yet, she finds herself in a situation that makes her suddenly willing to suspend disbelief long enough to see the truth.
The Selkie Man by DarkBlueBella has to be one of the best written, most intriguing fics I've ever read. Not only is the setting unique but the lore used in this story is one of the most fascinating I've ever read about.
The story starts with an riveting prologue that sets the mood for the rest of the story. It traps you and doesn't let you go.
Isobel Eunson stood in her wedding dress with flowers in her hair, waiting for her groom to arrive home so the wedding could begin. She stood at the window and watched the sea rolling back and forth. She ignored the quiet, worried whisperings of her aunts and neighbors and paid no attention to the crying of her mother. She stood at the window and waited. Even when the men returned from the boat, walking from the beach to the house with slumped shoulders and dread in their footsteps, she stood and waited.
Once the stage is set, enter our main player: Isabella Swan.
Bella is a college graduate—a seemingly ordinary girl—who travels to the Orkney Isles in order to work in her Masters in creative writing. From the beginning you can tell this Bella is different. There's an aura of loneliness about her. Like she's using the scholarship she got to finish her Masters to get away from her past, to escape it.
She felt the same familiar emotions upon seeing the sea as she did at home. She turned her face to the sea breeze and closed her eyes. For a moment she was home again, five thousand miles away in Washington State, on the beach with her parents or her school friends or Jacob, her childhood companion. The sound, the smell, the soft light visible through her eyelids was the same.
Suddenly a startled cry rushed up from the bottom of her lungs, and Bella found that tears had appeared unbidden, taking her by surprise. The shock of it made her cry a bit more. She let the tears leak out for a minute or two, telling herself it was nothing more than jet lag, along with a touch of homesickness and bitter frustration with the lack of communication with anyone not on these northern isles. Then she blew her nose with a tissue and shook her head at this moment of silliness that would be embarrassing to admit to herself or anyone else.
However, trying to flee from her sad memories, she ends up getting a gift from the sea than she never could have anticipated. Her tears don't go unanswered and soon she meets a mysterious man that will flip her world on its axis.
Bella blinked, unsure if she was imagining the man standing in the garden staring back at her. He was unmoving, statue like. He was not threatening looking, but it was impossible to tell what his intentions were.
It really is a mystery in the beginning who this man is and why he seems to appear out of thin air and seemingly disappear without a trace every time Bella encounters him.
"I'll go now," he said. "Perhaps I'll visit ye again."
"Tomorrow?" blurted Bella, without realising what she was going to say until it was out there, hanging in the air between them. "I'm Bella, by the way." She extended her hand through the window and held it there for him to shake.
He took her hand into his and shook it gravely, as if it were a serious matter. His skin was warm and soft, and felt like velvet.
"Edward," he said softly. As they dropped hands he stepped backward from her and moved as if to turn to the beach path.
"Where are you going? Have you got a boat?" Bella needed to know.
"I swim," he said simply.
In looking for an answer to the enigmatic Edward, Bella finds out secrets about the Scottish branch of her family she never would have expected. The answers perhaps are frightening but something deep inside Bella makes her keep going, until a new world is revealed before her eyes. A hidden world very few people are ever privy to.
The characters in this story are also very interesting as some Twi-characterizations remain, but some new touches are added, giving these people a depth and freshness we don't often find in fic.
Mike is still the friendly if somewhat pushy guy we love to hate. In this case we can't entirely hate him though, as he has a back-story that will endear you to him in a surprising way. Jessica is also there being helpful and kind, unlike many hated Jessicas in fic. Alice and other characters also make appearances using the same traits they inherited from their twi-counterparts but with a twist. This I found a lot more enjoyable than I expected. Maybe because I'm so used to the crazy, energetic Alice with an obsession with shopping that anything different feels like a breath of fresh air.
Edward in this story is a lot closer to canon than most Edwards in fic, but at the same time different. He doesn't hate himself like canon Edward does and doesn't hate what he is (which I'm not telling, but you might have already guessed.) He's an old soul like canon Edward. In every interaction he has with Bella you can tell he's there to help her, to be whatever she needs him to be— much like canon Edward tried to protect Bella and be whatever he could be to her.
Of course, that protectiveness and care grows into something deeper. He wants her and you can tell, but this 'ordinary girl' comes from a long line of people with 'extraordinary lives.' Thus, they end up much more involved with each other than any of them planned.
As Edward brushed his fingers over her collarbone, her breasts, her hips, her skin came alive with energy, flushed with an excitement so intense it almost made her ache. His eyes never left her, drinking in every detail as he watched her body tremble. She felt her heart race and pound as she reacted to the power of his touch, the way he commanded her body and its responses. He rolled her on top of him and she gasped at the new sensation of his smooth, hard body beneath hers. He kissed her more and kissed her deeply until her senses reeled in delight. As she pulled herself up over him, she looked straight into his eyes, the firelight making them magical, entrancing.
Apart from all of the above, DarkBlueBella has a true talent with story-telling. When I first found this fic via a tweet rec I literally could not stop reading it. When I got to the last posted update I was already craving for more. It's just that type of story you cannot get enough of and for which you'd drop everything as soon as that update email hits your inbox.
This is a true jewel that should not go unread by anyone who appreciates good writing, good plot and enthralling characters. I suggest you get comfy before you start though, and turn off all distractions (TV, cellphone, etc.) because once you start you will not be able to put this story down.