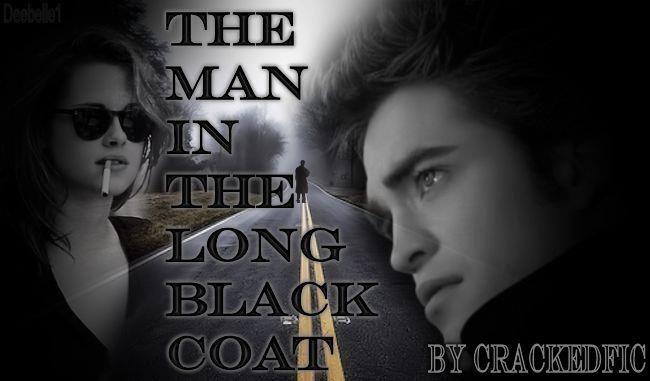 The Man in the Long Black Coat by CrackedFic
http://www.fanfiction.net/s/8784992/1/The-Man-in-the-Long-Black-Coat
"Why'd you have to kill him?" she screamed. "What did he ever do to you?" The man scooped her into his arms and headed for the door. "I killed him," he said, "because I was hungry." AU/Vampward Rated M
Review by: Jansails
Right from the start, we learn this Edward is a loner, a nomadic vampire with a taste for human blood and has no remorse. Subtlety is not Edward's suit, the long black coat is a red flag, and it adorns his tall, lanky, yet muscular form, as a visual "dead man walking" calling card.
Edward enters Forks with an arrogance born of the superiority his nearly indestructible and super-hero physique gives him, along with complete contempt for the weak human minds he can read. With his first act of violence, Edward is interrupted by Bella, screaming obscenities at him, while alerting him to her mind-blowing fragrant blood, delectable body, and silent mind.
Despite Edward's brutal violence, he and Bella become involved and she tries to tame him somewhat. Unfortunately, both Bella's father Charlie and the Volturi have observed Edward's activities and are looking for him. Charlie's efforts cause him to become a target of the Volturi and Edward has to fight off rampaging vampires to keep Bella and her father safe.
Read no further if the reader is unwilling to possibly lose canon characters or accept Edward as dark, vicious, and murderous. There are some interesting differences to Stephenie Meyer's canon vampire lore and Bella has some tricks up her sleeve, too. However, if the reader enjoys a supernatural thrill ride with explosive surprises, The Man In The Long Black Coat packs a satisfying punch! Check out this excerpt:
Edward was not a man who lost his cool easily, but he was coming close. He felt like his world had been twisted inside out. Only days ago, he had been minding his own business, intent on doing whatever he had to do to get by, whatever he had to do to satiate the monster inside him. But now he found himself infatuated with a strange girl, stuck in a town where people were starting to notice him, and trying to figure out a way to dodge a small-town police chief.
"Fuck," he muttered as he hurried toward the exit. He was putting himself in danger for no good reason and he knew he had to stop it as soon as possible.
A hand grabbed his as he neared the door. He snarled and prepared to strike, fed up. This was it. He was going to slaughter whoever it was and skip town, never to be seen again.
"Stop. Don't go."
He saw her, but he did not believe it. Bella Swan held onto his hand. He wanted to wrench his hand away. He wanted to hold her hand more tightly. He wanted to forget he had ever come to this place and he wanted to stay there forever.
"Uh," he said.
She looked over at her father, who was sipping watered-down punch and huddled in a corner with the mayor. Edward turned up the collar on his coat and ran his hand through his hair.
"I can keep him busy," she said, "if you promise to wait for me outside."
She looked into his eyes with the kind of confidence he hadn't seen in her before. She lifted her eyebrows and waited for a response, the smirk returning.
"OK," he said. "I'll be around back."
He walked outside, certain that he would not stop. He would walk until he was far enough away to run, and then he would run to the next town, and the next, and the next. He wouldn't rest until he was halfway across the country.
He sat down at a picnic table that fronted a pond behind the dance hall. He waited, despite himself. He breathed in the air, taking in the smells of northwest Washington. He thought that he didn't do that often enough, appreciating the good things his existence had to offer.
What am I doing? he thought. He got up to leave. Bella approached him.
"We need to talk," she said.
Edward didn't trust himself to reply, so he said nothing.
"I'm. I didn't mean. Uh, I guess I'm sorry about the other day," she said. She looked at her feet, back up at him. "I shouldn't have yelled at you like that."
Music drifted out an open window. The Doors. Someone was on an old-school kick.
Bella broke first. She looked up at him, her eyes glistening, her pale skin almost blue under the full moon.
"Dance with me," she said. She looked away. She bit her lip and turned back toward him. She took his hand in hers and squeezed.
Edward did not reply, his face like a mask.
She pulled him to her, and began to dance as a Van Morrison song played.
We were born before the wind
also younger than the sun
Bella laid her head on his chest, and he breathed her in. He placed his hands on her hips and closed his eyes, consuming her in his thoughts. He felt her heart pounding, her blood coursing through her veins, an oncoming tsunami.
He opened his eyes to see her bare neck inches from his mouth. His salivary glands reacted; his mouth watered.
"Bella," he said.
She held him tighter. "Shh," she whispered. "Just hold me."
He held her tighter. He put his head against hers, his mouth tantalizingly close to her neck. He nuzzled his cheek to hers, his nose behind her ear. He breathed in again and felt his inner demon coming out to play. He opened his mouth and bared his teeth, running them slowly over her carotid artery. He stopped and ran his tongue over it, savored the warmth as his teeth ran over it again, less gently this time.
Bella moaned softly. "Yes," she whispered. "Do it."
Jansails/jan2
Terms and Conditions Apply by TheSaintsMistress
http://www.fanfiction.net/s/6916502/1/Terms-and-Conditions-Apply
There's only one person on this earth that Edward Cullen hates, and that's his boss...Bella Swan. She's cold. She's ruthless and incapable of human emotion, and to Edward's greatest frustration, the hottest woman walking the face of the planet. Rated M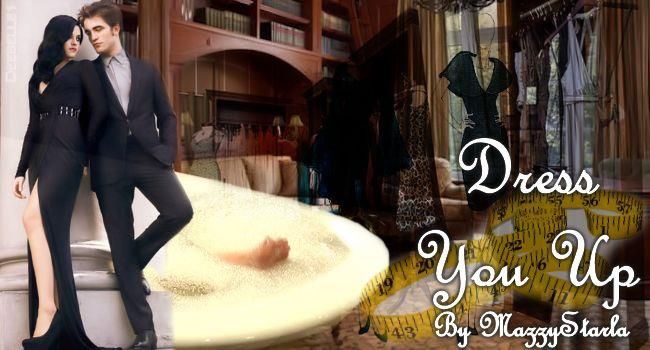 Dress You Up by MazzyStarla
http://www.fanfiction.net/s/8634731/1/Dress-You-Up
Bella Swan has everything she needs. She's an up-and-coming stylist, she owns her own boutique and she's got a great best friend, who knows her better than anyone. The last thing she wants is a man to slow her down. But then he shows up, and her world turns upside down. Rated M
Show Me Something More by Discordia81 & Karenac
http://www.fanfiction.net/s/9276046/1/
For ten years, Edward Cullen has had a secret desire. Isabella Swan is in the business of making fantasies come true. Together, they'll discover more than they ever expected. 1st place winner for Public Vote and Judge's Choice in the LDA anonymous contest. Collab with karenec. Rated M
Chop and Change by Krazyk85
http://www.fanfiction.net/s/8291981/1/Chop-and-Change
While trying to steal his car, a runaway, Bella, meets Edward. A man with his own vices and long rap sheet. Taking her under his wing and teaching her the way to truly boost cars, they embark on a journey of crime fitting of Bonnie and Clyde. ExB, Lemons, Violence, Guns, and Fun. HEA. BPOV. Rated M