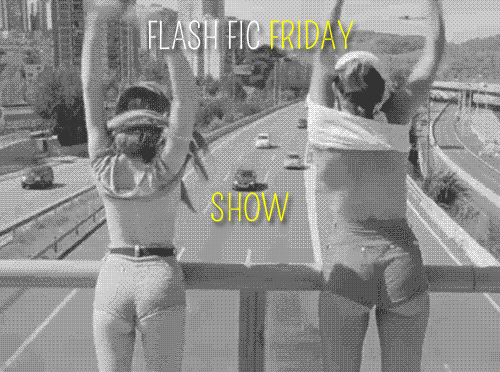 How does it work? Each Friday one admin of TLS posts a picture prompt here on the blog. Using this image, entries are created by commenting on this post. Submissions must be 100-300 words
only
. No more, no less. The entries are then judged and we post the winners here, each Friday, to share with all of you.
Picture prompt and judge this week is
PAWsPeaches
NEW PROMPT
"Thing is...
I really wanna be more than just friends."
You will have until next Wednesday at 9 p.m. EST to submit your entry.
Please leave your submission in the comment section at the bottom of the post using this format:
Your name (use your Twitter, Facebook or FFN name)
Your link to your FFN profile if you choose to share it
Submissions will be judged on Thursdays and on Friday the winning entry will be posted here.
This feature is open to everyone, so come one, come all!
LAST WEEK'S PROMPT AND WINNERS CHOSEN BY
Edmazing
Last week's prompt:
WINNERS:
FIRST PLACE:
Jonesn Fanfiction
http://www.fanfiction.net/u/2002395/Jonesn
word count: 300
I try to watch the road, peeking at you out the corner of my eye.
Your hair blowing in the breeze, your hand coasting the wind.
The smile pulling at your lips, makes mine do the same, and I don't want to just look at you anymore.
I never just want to look at you, your hair and your hands and your lips.
You.
All of you.
It's almost painful, just looking.
Pulling off the shoulder, I take the old, beaten path, stirring up dirt and dust in my wake.
The winged seeds break from the surrounding trees, flutter and fly around you, falling into your lap and your hair and you laugh, picking them off and throwing them out to crunch under the turn of the slowing tires.
The lake's just beyond the bush, the sun casting its glare, glimmering in waves and waves off the rolling, muddy water.
You watch it as I come to a stop, climb into the backseat, making you squeal in surprise as I take you with me.
Pushing open the back door, you try to escape, but I've got you.
I've always got you, wrapped in my arms to keep you where you belong.
Here.
Right here.
Giggling, you wiggle as I lie back, settling yourself on top of me, stomach to fluttering stomach, chest to beating chest.
Looking into those bashful, brown eyes, I hold your hair in my hands; lightly fingering the soft, auburn sheen and feel yours cradle the back of my head to pull my lips to your lips.
I can still taste the summer, sunset citrus you smeared on long before we left, the sweet tang coating my tongue as it slithers out to seek yours. And I feel like I could kiss you forever.
Forever and always.
SECOND PLACE:
LastAboard
http://www.fanfiction.net/u/3430984/
Word Count: 296
"Did you like your nickname when you were little? Teddy, I mean," I clarify as though he had more than one.
"Mmm. I don't know. I guess I didn't really think about whether I liked it or not," Edward says as he tilts his head back a bit further into the soft, worn leather of the seat. His water bottle rests on the exposed skin of my lower back, his pinky just brushing against me now and then, with his right arm stretched above his head. His eyes are closed and he looks peaceful, almost as though he were asleep. "Why do you ask?"
"I think it's cute."
He scrunches his eyes closed tighter and laughs, jostling me a bit where I lay on his chest.
"Well, I've kind of grown out of it."
"Not for you. For a kid, a baby." I stretch my hand up above his head and grab his hand in both of mine. Our stomachs touch where our shirts ride up and the hair below his belly button tickles me.
"A baby, huh?" He smirks and cracks one eye open.
I nod, a bit nervously. I want him to be as excited as I am.
"Really?" he asks, a grin creeping onto his face.
"Yeah," I say softly, returning the grin.
"So, how long would you say we have to decide if Teddy seems like a good nickname for a baby?"
"A little less than eight months."
He brings both hands to my face and stares at me, his eyes studying as if he hadn't looked at me a million times.
"Are you happy?" I ask. I have to hear him him say it.
He answering smile is blinding. "I think, right now, that happy doesn't even begin to describe it."
THIRD PLACE:
Name:
Chocaholic123
Ffn:
http://www.fanfiction.net/~chocaholic123
Word Count: 298
The summer sun beats down. Its warming rays dance across my skin, bleaching hairs and stirring memories I try to repress. Every year it's the same; like a hibernating animal awakening from a winter's sleep my libido stretches and curls. Your name trips across my tongue in a litany of prayers.
My skin tingles with the synaptic recall of your caresses. Invisible lines forged by your fingers are burned into my body, created when we were little more than children, made permanent by your persistent touch.
You'll break my heart again when you haphazardly stuff your cases in your trunk, pulling your Raybans down to block out the reflection of the September sun. But it's still June, and I let the butterflies flutter in my chest when I see a trail of dust in the distance, the air filled with the buzzing of weed whackers as gardeners clear a trail to your summer home.
I know you'll seduce me with a smile. I know I'll let you.
Down at the lake the water warms up, still sand disturbed by a hundred happy toes. I remember nights curled up with you by the shore, you moving inside me, whispering promises we both knew you couldn't keep. Every year it gets a little harder to fill the void you create, but still I let you dig at my soul until there's nothing left.
The dust cloud gets closer, and I can make out a car; new and shiny, the top pulled down so you can be baked by the same sun. I stand by the road, my body trembling with need, watching as you slow down to a halt.
You open the door and pull me inside, our legs tangling, our laughter mingling as your lips devour mine.
"I'm back."
HONORABLE MENTION:
kitchmill
http://www.fanfiction.net/u/3701431/
Word count: 244
My fingers drum on the steering wheel. The wind whips through my hair.
Three hours. Only three more hours.
What's three hours on top of thirty days? When it's all that's left, it feels like a lifetime.
My convertible continues to rumble down the highway, and the engine protests as I floor the gas pedal. I know she can handle it though. She's been there since the beginning. She was there through all the firsts. She took us on our first date, to prom, on summer road trips, to college, and now she's gonna take me right back where I belong.
I exit the highway and it feels like the car is driving itself. She knows the way.
She takes me down the familiar dirt road that leads to you. But really, all roads lead to you.
It's always been you.
When I pull up in front of the quaint white house, you're already waiting. I leave the engine idling as I step out to get to you faster, but you beat me to it.
You're down those stairs and in my arms before I can stand up. And then we're both back in the car.
Right where we belong.
"Never again," I whisper between kisses to your face. "I told them I won't travel anymore."
"Never, Edward," you make me promise.
And it's right. The right time and the right place, because everything happens here.
"Marry me, Bella."
Your smile is breathtaking.
"Yes."
HONORABLE MENTION:
Name: CullensTwiMistress
FF link:
http://www.fanfiction.net/u/2593677/cullenstwimistress
Word count: 300
...
Camping.
I hate it.
Middle of nowhere with a flashlight and a tent. No running water. Friends all coupled off except for Cullen.
I hate Cullen.
Jackass.
"Bella, we're going for a hike, you coming?" Rose asks.
"No."
I'm a sulky bitch, but whatever. I don't hike. Give me a book and some bug spray, and I'm golden.
"You staying here?"
Ugh. Cullen.
I shrug. "Yeah. You?"
"Hiking. Not my thing."
I nod. At least we agree on something.
My book's good. Cullen…not so much. He's distracting. All hard body and slick skin. His hair a dishevelled mess. He's almost attractive. Meh, who am I kidding?
"Hey, Bella?"
My eyes slide up to his face. He smirks, knowingly. Asshole.
"You wanna go for a ride?"
"No."
"Come on. I don't bite."
I wish.
"Fine. But don't try anything."
I hate him.
He opens the door for me and I slide in. "Where are we going?"
"Beer run."
The store isn't far.
The way his forearm flexes every time he shifts is hard to ignore.
I hate him.
He puts the twenty-four into the back seat along with some bottled water, and gives me a knowing smirk.
Damn him and his sexiness.
"Find something you like, Bella?"
"Shut up."
The ride back to the campsite is silent. Thank god.
I get out of the car and go around, but I trip on a branch and with a huff, fall onto Edward as he's reaching into the back seat for the water.
"Shit."
"Are you okay?"
He holds me on top of him, one hand smoothing the hair back from my face; the other shifting my body so that I'm pressed comfortably against his.
I nod, looking into his eyes.
He grins and presses his lips to mine.
"I don't hate you."
HONORABLE MENTION:
@sparklymeg
http://www.fanfiction.net/u/4417049/
Word Count: 299
"You're doing great," he says, shaking excess water from his head. It lands in gleaming droplets all over his face.
I watch a bead of moisture make its way down his long neck, trickling down the taut curve of his pectoral muscle, before landing on his firm, dark nipple.
My tongue wets my lips as I imagine licking that wet, soft spot on his chest.
His hand rests lazily on the fabric of his wetsuit, which is turned down to the waist. His other hand covers his face as yawns, before moving to join the other hand.
He whips the lower half of the wetsuit off.
I forget how to breathe.
I would never have considered a Speedo sexy.
But now that I see my kayak instructor, with his untamed hair and sun-kissed skin, water dripping down his perfectly sculpted six pack, the sexy "v" shape of his muscles dipping into the waistband of the scant navy fabric, I am mesmerised.
He's talking, but the words are a blur.
I want to run my tongue along that "V"…
He tugs on my ponytail, interrupting my dirty thoughts.
"You need me to unzip you?" he asks. My cheeks heat - I've been caught staring. I quickly nod and turn around. The zip opens - his fingers linger against my skin longer than would be considered appropriate.
The heat pooling between my thighs finds it very appropriate.
I shake the wetsuit out, letting it fall to the floor.
He's chugging from a bottle of water - I lick my lips again.
I want to be that bottle.
He releases it with a pop, offering it to me. I step forward, tripping on the wetsuit, sending us both flying through his open car door onto the backseat.
I gasp.
He's rock hard.
I had a realllly hard time picking my faves this week! There were so many great flashes that I would love to see continued. Thank you so much for sharing your creativity with us. ~Mel