FLASH FIC FRIDAY IS HERE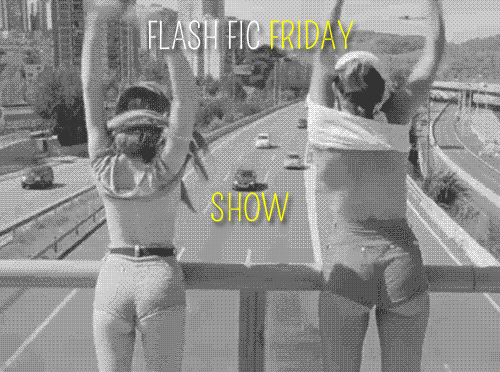 PLEASE JOIN US EACH FRIDAY TO SEE WHO'S FLASHING US
Each Friday a new prompt will be posted along with the previous week's winners
What exactly is a Flash-Fic? It's pretty much a spur of the moment, tiny story, prompted by words, images or silliness. Not sure if you've ever been on twitter when this has happened, but it's pretty awesome when it does. It also happens often in threads, with a combination of people contributing.
How does it work? Each Friday one admin of TLS posts a picture prompt here to the blog. Using this image, entries are created. Entries must be 100-300 words ONLY. No more, no less. The entries are then judged and we post the winning submissions here, each Friday, to share with all of you.
THIS WEEK'S NEW PROMPT
You will have until next Wednesday at 9 p.m. EST to submit your entry. Please leave your submission in the comment section at the bottom of the post using this format:
Your name (use your Twitter, Facebook or FFN name)
Your link to your FFN profile if you choose to share it
Number of submission. Example: #1
Submissions will be judged on Thursdays and on Friday the winning entry will be posted here, on the TLS blog.
This feature is open to everyone, so come one, come all!
LAST WEEK'S PROMPT AND WINNERS
FIRST PLACE WINNER
THEFICCHICK
TheFicChick on FFN, @TheFicChick on twitter
Word count: 162
You're everything: popular, gifted, a brilliant star on the
rise. I'm nothing: misfit, untalented, a black hole people step around.
You're hers: high school sweethearts, football captain and
head cheerleader, prom king and queen. I'm nobody's: table for one, single
ticket to the movies, prom night in.
You wear confidence and swagger, surety and poise like a
superhero's cape. I carry insecurity and timidity, self-recrimination and doubt
like a cloak to hide beneath.
You're everything and I'm nothing, but together we are fire.
Your lips against mine. Your hips against mine. Your words
against mine. In the hallway, in the locker room, in the parking lot when we
should both be somewhere, anywhere else.
"Don't tell," and "She can't know," and "Please," and all
these words that fall from lips between kisses. I lick your mouth and breathe
your breath and wonder if I can swallow just enough of you to keep something
for myself when the fire burns it all down.
SECOND PLACE
HONEYBEEMEADOWS
Word count: 297
She is the most infuriating person I know.
The way she works herself up into a spin. The way her lips curl around her words and her eyes hollow out like she's starving. The way she chokes on her air and her tits strain over every gasping breath. The way she paces toe to heel in front of me, stomping over every last detail of our relationship like she might beat it into submission.
Why we can't can't can't.
"I can't wait," I interrupt and her stomping falters as she stops to look at me. "I need you. Plain and simple. I won't settle for less. I won't wait."
"You've never been this demanding," she accuses with lethal accuracy and almost takes me down to my knees.
"You've never given me a reason to before."
She stumbles back into her pacing again and I try to listen to her but I've become a buzzing hum of electric energy that has nowhere to turn. She's ranting again, barely understandable and glowing with something that I can't place. Pearly and brand new, like she just stepped out of a shell and found herself here with me, in this can't can't can't situation.
"Will you shut up?" I tell her and seal my mouth over hers, a wax seal imprinted with everything I can't say to this infuriating, beautiful girl who kept a secret from me just long enough to let me fall violently in love with her.
To crush all of her can't can't can't's into the linoleum beneath us.
Her fists hit my chest before they turn into skittering fingertips across my jaw and she breathes her white flag right into my mouth.
Seals it with her lips.
THIRD PLACE
MAZZY STARLA
Word Count: 300
Dear Diary,
There's a time in everyone's life when there's a before and an after.
My after happened in 6th grade, when I saw Edward Cullen.
After that moment, my life was never the same.
Even at twelve, he took my breath away. I still haven't worked up the nerve to speak to him.
I know, I know. Pathetic. Hey, it's not like I've really had the chance. I've been INVISIBLE to him.
But that's okay. Invisible made it easier for me to stare. And dream about kissing his lips and feeling his body against mine.
Thankfully I have you, dear diary, to share my wishes and wants.
Until next time,
~ Bella
After school, I begrudgingly agree to help my best-friend Angela. She's heading up the Prom Committee so I'm in the cafeteria, watching the others come in.
I see him from the corner of my eye. He sets his backpack against the wall near mine, but doesn't look my way. He smiles at Tyler and takes a seat.
God he's beautiful.
After I get home, I grab my backpack, noticing that it's emerald green, not navy blue.
What the??
I unzip it and pull out a notebook and scream when I see Cullen across the top.
HOLY SHIT. MY FUCKING DIARY!! OMG!!!
The next day at school, I'm praying my bag is where I left it. Please God. Please let it still be there.
"Looking for this?"
It's him. He's standing in the doorway with a smile that's making my knees weak.
Unable to respond, I start to run and I hear him call after me.
"Bella, wait! Stop!"
Knowing there's no way to avoid this, I stop and lean against the hallway walls.
And without ever saying a word to him, Edward Cullen's lips are on mine.
FOURTH PLACE
JO FICFREAK
FictionFreak95 on FFN
Word count: 300
"I don't want to do this," I tell him. And this time, I mean it.
"Do what?" he asks angrily.
"Argue."
"We're not arguing, I'm begging you not to go. You're the one that's arguing."
"I can't do this." He's killing me and he knows it. I hate that.
"Why not?" he asks. "Because of last week? Last week was…"
I stop and look him square in those piercing blue eyes of his.
"It's not because of last week."
It's because of last week. And the week before, and the one before that. But I can't tell him that. I can't give him the satisfaction. He needs to think I'm doing this for me. Which I am.
He takes my hand in his and pulls me back when I try to go. His voice weakens when he speaks this time. "Please. Stay. I'm nothing without you."
I pause, feeling my shoulders drop a little, because when he talks like this, I forget what a jerk he can be. What an insensitive, flirtatious, jerk.
I quicken my pace. I have to go. For my heart's sake.
"I told her I'm not interested," he says as I put some distance between us finally.
However now, my footsteps are slowing.
"My interests lie with you," I hear him say as he gains some ground on me. "And only you."
He pulls me into him. I fight it but then he kisses me hard. Full of all the things I love about him. Passion and impatience. Greed and lust. And I want to do this. I so want to do this, but…
"It's only ever been you," he promises with a husky voice, when our kiss breaks, momentarily.
I see it in his eyes and I smile, because yeah… I'm definitely doing this.
FIFTH PLACE
PRIMARY COLORS
Word count: 298
"There you are."
There was an edge to his mouth, a touch of savagery in the way it curved into a smile. He had her cornered in this dark section of the hospital, long closed for the weekend. The buzzing of his office party was non-existent thanks to the maze of hallways where she'd gotten herself lost in a pathetic dash to find the parking deck.
Edward stared, waiting and Bella felt as if she were desperately trying to remember the answer when there hadn't been a question asked. He took a step forward and she took a step back, his eyes dropping to where she wobbled on her heels.
Her hair had come loose, the strands clinging wetly to her cheeks. Breathless and unblinking, she bit her lip, a metallic burn that made his nostrils flare.
"Oh sweetheart, you shouldn't have run," he told her, voice low and urgent, his smirk faded. "You know what that does to me." His eyes were wild, the darkness churning with faint hints of red. Her hands fluttered uselessly at her throat.
"No!" She shook her head violently, hearing a sob, hysterical, frantic and knew it was herself. The emotion was torn from a place so deeply buried inside her that she thought if she could see it, it would a mess of sticky blood and frantic beating heart, the fear seeping out of her and pooling hotly at her feet.
"Please," she cried. "I don't want you to—"
"I can smell the wet between your legs," he growled, a guttural sound caught between humanity and the animal within. "Your body begs for me, don't deny that." He moved closer.
"I- I don't deny it. Just… don't hurt me."
"I could never hurt you," he whispered, seconds before he fell.
.
.
.
The Lemonade Stand would like to thank all of the participants. We thoroughly enjoyed ALL of the entries!
See you next week!
XOXO