American Girl by Coldplay Whore
Before starting her freshman year of college, Bella decided to backpack through Europe for two months. On her travels, she meets priveledged black sheep Edward Cullen, who takes an instant liking to her & wants to join her on her trip and much more. lemon Twilight - Rated: M
A new high school graduate, Bella Swan is planning on backpacking through Europe for two months during the summer with her best friend Angela. Before they are supposed to leave, Angela's dad is diagnosed with cancer and isn't able to go with Bella. Not wanting to be deterred by anything Bella decides she's going to go anyway. She's independent right? She can do this on her own, her parents on the other hand are a bit hesitant to let their only child go.
"You know you can come back whenever you want right? You don't have to stay two months in Europe," said my mother Renee as I tossed my backpack in the back of Charlie's police cruiser after Angela and Ben left. They had insisted on driving me to the airport together, but a few days earlier my mother's old Ford officially died on the side of the highway, so here we stood, offering up awkward farewells in front of Charlie's beloved Crown Victoria. We had all agreed over dinner the night before to say our tear-filled goodbyes at the house, so we wouldn't make a big scene at the Sea-Tac airport. It wasn't going well.
"Don't take any weird drugs and don't wander down dark streets late at night," recommended Renee as we drove in near silence to the airport. "And don't talk to strangers."
"Everyone in Europe is a stranger to me mom. What do you expect me to do? Bring a chalkboard and write notes in foreign languages? I didn't study basic French and Italian for nothing," I remarked in frustration as I tried to ignore her advice. I shoved my ear buds back into my ears and turned up my music, in an effort to calm my nerves. I had never been away from either one of my parents for more than three nights, so two months will be a huge stretch for me. Renee bought me a hundred dollars worth of calling cards so that I could check in with her on a frequent basis. With my luck, they probably won't even work in Europe.
We pulled up in front of the 'departures' section of the airport and Charlie helped me unload my bag from the car as my mom pulled me in for yet another hug. I don't think she had hugged me as much in the past eighteen years of my life as she had in the past seven days.
"Be safe kiddo," said Charlie as he squeezed me tightly and I disappeared through the automatic doors to find my check in stand. I took a quick look back towards my parents and saw my dad hugging my mom who was crying inconsolably. I felt a small pang of remorse for leaving them, but this was something I had been dying to do and would regret even more if I didn't do it. After checking in and going through all the security checkpoints, I eased myself into a chair outside my gate and waited impatiently. I looked through the crowd of people that were catching the same flight as me to JFK in New York City. A lot of business men and women primarily. There was one family with kids and I just prayed that their youngest, who looked about five wasn't sitting anywhere near me. When we finally boarded and were all sitting in our seats, I turned up my iPod to the traveling playlist I had made and closed my eyes, eager to sleep before my layover and I finally headed to London. Stop one on the Bella Swan Trip of a Lifetime.
Edward Cullen is going on his own trek across Europe, much to his family's dismay. Waiting for his flight in JFK he notices a pretty girl lost to her music. Instantly he is interested in her. So interested that he swaps his first class seat with the man seated next to the pretty girl. This girl is someone he wants to get to know, he likes her snark and her bite. Coincidentally they end up bumping into each other at the National Gallery in London. This is where he lays it all out on the table. He wants to travel with her.
"I want to come with you," I stammered nervously as I grabbed the hem of my shirt and fidgeted in anticipation of her response
"Excuse me?" she said a little too loudly, when I suddenly realized that what I said could be misconstrued as something else; something a little more sexual.
"No, not like that. I want to travel with you. We're doing the same thing for the next two months, I just think we might have a better time if we did it together," I sighed expectantly. Bella said nothing, but her initial facial expression said that she wasn't sure if it was a good idea.
"I'm not sure," she finally said a few moments later.
"Why not? I think it would be cool to learn all about art from you while we travelled, visited galleries and some of the major tourist sites in the various countries. You can teach me about art and I can teach you about … something. I dunno what, but I'm sure I can help in some way," I laughed as Bella offered up a sweet smile. "We could probably save some money by booking one room with two beds at some of the hostels. It'll be fun."
"Let's enjoy our dinner and let me think about it." I watched Bella intently all through dinner, hoping she would give off some sort of vibe that said she was on board with my plans, but there was nothing. We talked casually about some of the things we planned to do in Europe, but we never once mentioned doing them together, so this was a bad sign for me.
"If I agree to this, it's strictly platonic right? This isn't your way of trying to get into my pants, is it?" She asked as she raised her eye brow curiously. I had to lie to her and I didn't feel that good about it. If I told her the truth, that yes, I was extremely attracted to her, she would definitely say no.
"Yeah, we're doing this as friends," I said, immediately feeling remorseful. I never had to lie to a woman to convince her to sleep with me, but I had to lie to Bella, otherwise I would never get another chance with her. "Does this mean you are saying yes?" I asked hopeful.
"No. I still don't know."
Bella is attracted to Edward but doesn't want to start a relationship with someone she barely knows and someone that isn't going to be going to the same college she is when they get back to the states. This story is nothing short of amazing. Coldplaywhore captures each city they visit with such beautiful words that you feel like you're walking down a road in London or having a romantic evening in Paris. There are so many places that she takes us I can't even begin to tell you all that you will get from this story, but I can tell you that you won't regret it. It will be a journey you will want to take with Edward and Bella. See them develop a friendship that turns to a romantic relationship. I can promise you it will be an awesome adventure.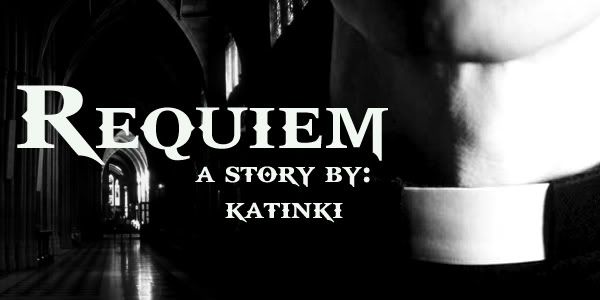 Requiem by Katinki - rec'd by Lynn Pepper
For seven decades, he has worn the collar of faith and service. Wandering the earth alone, he's searched for redemption and for the soul he can never possess. Until now - when a young woman enters his world and shatters everything he ever believed. AU. Twilight - Rated: M
Reviewed by: Twilightmomoftwo
For seven decades, he has worn the collar of faith and service. Wandering the earth alone, he's searched for redemption and for the soul he can never possess. Until now - when a young woman enters his world and shatters everything he ever believed."
Quoted from chapter 1's author note:
a) I'll say this one time to avoid any confusion in future chapters: I've taken certain liberties and have made a few simplifications regarding the details of some aspects of Catholic dogma and protocol, as well as the roles and lives of its clergy.
b) If you are thinking this will be lemony or in some way be a deviant sexual play on the priesthood, I'll go ahead and say, "Nope, no way, no how." There may or may not be sexual situations at some point. If there are, they will not be explicit or porny.
c) This story is rather AU; meaning: please don't automatically assume canon anything.
d) Length-wise, this is a novella and will be written as such, pace-wise and storytelling-wise. I won't tell you how many chapters there are, but if you are bored and want to do a little homework, you might can guess.
e) Fair warning: as per my usual, I promise nothing. Those who know me know that I'm not really a rainbows and kitties kind of girl.
Redemption. Repentance. Absolution. Those are the major themes in Katinki's "Requiem" fic, an AU in which so far only Edward is a vampire. Edward is posing as a priest, working in a Catholic church in Chicago as part of his cover, struggling with his guilt and memories of his violent past. He considers himself a irredeemable monster, long past any chance of gaining absolution, as that is "not for the soulless."
While he has adopted a diet of animal blood, he still remembers the humans he has killed. They torment him every moment of every day.
"Dark eyed with olive skin and hair the color of roasted chestnuts, a woman cowers. Her face is a mask of terror and shock, surprised by the sudden intrusion of a man in her private quarters.
A crooked finger extends and, 'Czerwone oczy!' spills from her rosebud lips.
Her pulse jumps. He can see it there under her skin and it's mesmerizing. The scent of her is excruciating, somehow sharper than it was in the park.
Three days have passed since he stumbled from the alley, confused and in blinding agony, and Edward still doesn't know what he is. He only knows that he is a monster and that what he wants hides beneath her flesh.
Spreading plum-black stains appear where his fingers rest on her arm, and blood curdling screams ring in his ears, so loud that he can't stand it so he snaps her neck without realizing it.
And then it's all his; velvet and smooth, so succulent and warm, her blood is the most exquisite thing he's ever tasted. There's nothing he wants more."
For nearly seven decades, he has worn the collar of a Catholic priest as an attempt of doing penance. His mentor is Carlisle, who is portrayed as an older man, also a Catholic priest. Together, they tend to their flock, when Bella Swan enters their life as a volunteer working in the shelter they support.
"The moment they walk through the swinging doors, Edward knows that something is wrong.
So very, very wrong.
For as soon as Edward inhales a breath, expecting the pungency of meatloaf, spices, and the reek of the streets, his nostrils flare. Venom swamps his mouth, running down his throat in a torrential river of acid and fire.
A perfume like he's never smelled before taints the air and floods his lungs. His throat tightens, flaring to life. Deep down in the pit of his stomach, the river of flowing venom begins to boil and ignite, and its flames climb his throat to the tip of his tongue. It feels as though he's breathing Hell, and his body locks down, his mind emptying of thought.
All he can think about is finding the source of this luscious smell and devouring it with unimaginable brutality."
Yes, that part is canon. Bella smells as good to Edward as she does in the original, and much like in canon, he struggles with not only his thirst for her blood but also with an immediate need to protect her at all cost.
Even if it means going against everything he's tried to stand for in the last seventy years and killing a human if it keeps her safe.
"In less time than he can blink, everything Edward has built up shatters into a million pieces of raw hunger, abolishing his attempts at humanity and repentance. As his golden eyes blacken to the darkest night, his last centuries mean nothing. His restraint means nothing. The guilt he harbors is forgotten and meaningless.
In this moment, he is violence. His monster has awoken.
And the only thing he can do is run."
I won't give away any more of the plot, but suffice it to say that as with all of her AU fics, Katinki manages to keep the reader on his/her toes, and nothing is ever as it seems. In a somewhat unusual move, it's written in the present tense, but that only serves to make you feel as if you're right in the thick of things.
The writing is exquisite, each word, each sentence, each paragraph written with utmost care to generate the exact emotion and response she wants you to experience. Her story is character-driven, and it's amazing to follow along, seeing them grow and change.
This story makes you think, and it's not a fluffy, feel-good fic, but that is exactly why I'm drawn to Katinki's writing.
In the last few chapters, she has introduced another vampire, whose identity was revealed in chapter 10. I can hardly wait to see how this story progresses. Whenever I get an alert email for this story, I pretty much drop everything and run to read.
There's no doubt that you will, too.
Little Green and Easy Bella by BettiGefetch
She only remembers a silent kid, he doesn't remember her at all. When they meet again, they feel a connection that isn't of this world - ExB; AH; lemons, no smut; autism; age gap; true love; virginity - "Cherry Exchange" contest entry, now continued Twilight - Rated: M
Reviewed by: Melbie Toast
. . . and her body says yes , and her scent . . . that scent says a thousand times yes. And my own body's answer is loud, so loud it almost hurts . The heat . The throbbing . A thousand times yes . . .
I am honored that The Lemonade Stand has asked me to write a review of one of my favorite fan fiction stories of all time, the beautifully written and heart-felt story of "Little Green and Easybella" (LG&Eb) by the marvelously talented Betti Gefecht. Thank you, TLS, for this opportunity. I only hope my review can sufficiently describe the simple beauty of LG&Eb, for this story is so dear to my heart.
I have long ago lost count of the many fan fiction stories I've read in the past three-plus years, and there are many very talented writers I have enjoyed reading so much, but no story has so deeply touched my heart emotionally as "Little Green and Easybella.
The author of LG&Eb is the multi-talented Betti Gefecht, who is not only an extremely talented writer, but an accomplished musician, song writer, graphic artist and just an all-around wonderful person. I first became acquainted with Betti way back in 2009 when I came upon her fantastic video (yes, she creates videos too) "Bedtime Stories ("Dear Robert Pattinson...")

http://www.youtube.com/watch?v=xOZYszG9VC0

It wasn't until 2010 that I realized Betti also is an excellent writer, when I read her first fan fiction "Your True Colors"

http://www.fanfiction.net/s/5460166/1/Your_True_Colors

, which I thoroughly enjoyed.
"Little Green and Easybella" was first published by Betti as a One-Shot for "The Cherry Exchange 2010". Thankfully, in October 2010, Betti decided to extend the story - and the rest is history. LG&Eb quickly captivated many fans, including me.
"Little Green and Easybella" is a story about love and devotion, between an autistic boy (Edward) and a teenage girl (Bella) who looks after him. They form a strong and special bond between them, with secret and "special names" for each other, "Little Green" (Edward) and "Easybella" (Bella). Edward's "special name" for Bella is "Easybella" because her presence always calms him and is "easy". Bella's "special name" for Edward is "Little Green" because of Edward's striking green eyes, and is revealed to Edward in a most touching way while she sings a sweet song to Edward.
Edward was adopted by Esme and Carlisle Cullen as a young boy after a traumatic and abusive early childhood. Although not close to Carlisle, Edward has a loving and special relationship with Esme, who loves him dearly. In Edward's world, only Esme and Easybella are allowed inside, the only two persons he is able to make direct eye-contact with, and the first and few words he has ever spoken were to his Easybella.
All is well until Esme sends Edward to an out-of-state in-resident special school for autistic children, far away from home. "Little Green" is suddenly cut off from his "Easybella", and he is utterly devastated. Sadly, based upon advice from the school experts, Esme decides to withhold from Edward the numerous letters Bella writes to him, as well as withholding the gut-wrenching letters Edward writes to Bella, which both are not aware of. Edward becomes so traumatized by being cut off from his Easybella, thinking she has forgotten him, that the only way he can survive the pain is to block out his memories of her, deep within. Bella finally gives up writing to Edward when she receives no replies, thinking he has forgotten her, as well.
Years pass and Edward is now 18 years old, and is coming home. He has struggled and worked hard, and now, with concentration and great effort, can speak. Edward is extremely intelligent and has also learned enough social cues to pass as "normal" in most circumstances.
Bella, now 25, has just ended a loveless and disheartening marriage to Jacob Black, feeling alone, undesirable and insecure.
When Edward first encounters Bella again after all the years that have passed, he at first does not recognize her as his "Easybella" - having locked down his memory of her so deep inside. But when Esme hugs Bella, and Edward does the same, thinking it socially appropriate, her smell and essence suddenly trigger his memories of her and he is overwhelmed with love and emotion.
Bella is also startled to see her Little Green again, all grown up into a tall, strikingly handsome and beautiful young man. Her love for Little Green is immediately rekindled.
The special connection between Little Green and Easybella is quickly re-established, on an even more intense scale, for now in addition to the strong bond between them from years past, there is a mutually intense sexual attraction.
What follows is an extremely endearing story of the growing and intense bond between Little Green and Easybella, the painful revelation of the betrayal by Esme, the emotional struggles by Edward as he tries to understand the intensity of his feelings of love and sexual attraction to Bella, coping with his anger at Esme, and forgiveness in its purest form.
Are there "lemons" is the story of Little Green and Easybella? Yes, definitely -- but this is definitely not "smut". The sexual relations and revelations between Little Green and Easybella are intensely erotic, and filled with pure love and emotion. Reading "lemons" in the story of LG&Eb are an emotionally moving experience indeed, and the reader may need some tissues close by.
Reading LG&Eb will often bring you to tears, as you live inside the complicated, loving and endearing mind of Little Green, both as a little boy and a grown man. His experiences break your heart, and make your heart grow big. Like so many of LG&Eb's fans, you will totally fall in love with Little Green.
Betti Gefecht writes in both EPOV and BPOV, but when she is writing Little Green, he becomes completely "real" to the reader; he comes to life in a most intimate way, giving us a unique insight and perspective into the mind of an autistic boy's and young man's struggle to cope with and understand a confusing and complicated world often foreign to him. Although Betti readily states that she is in no way trained in the field of autism, she does an awesome job (in my view) in revealing how an autistic boy and man discerns and reacts to the world and people around him.
All of the characters in LG&Eb are well developed, true to life and well-written, but Betti's ability to bring Little Green to life, to make us understand his struggles and pureness of heart and mind, and fall totally in love with him, is truly remarkable.
Little Green and Easybella is currently at Chapter 29, and thankfully, with many more chapters to come. I have so thoroughly enjoyed this story that as the chapters have progressed, I find myself re-reading LG&Eb from the start several times over (I recently finished my 5th reading), which I have only done with one other fan fiction, Master of the Universe. This I hope gives you an idea of the caliber of this most heart-felt and endearing story I've ever read, "Little Green and Easybella."
After reading this review, I hope you are encouraged to start reading "Little Green and Easybella" - and I can guarantee that you will not be disappointed, but only delighted.
Excerpt from "Little Green and Easybella", Chapter One:
Esme is looking up at me, and though the cab is gone, she's still talking. Obviously she's talking to me now. She reaches out and gently squeezes my upper arm, just like she always did when I was a child. It's her signal to let me know that she's going to say something important and that I need to zone in and listen. With regret, I snap out of my comfortable semi-trance and open up to the meaning of her words. She's talking about someone who lives here, someone I'm obviously supposed to know. Bella Black?
That name isn't in my memory. So I tilt my head and raise one eyebrow. When I was a kid, this used to be enough to make her elaborate things or answer my unspoken questions. Not anymore apparently; she just keeps on talking. I would correct her and tell her there's no way I know Bella Black, but it's probably not worth the effort. I avoid speaking if possible. So I pick up my bags and follow her inside. A young woman steps out of one of the apartments and smiles at me and Esme.
Deep down at the bottom of my mind, something begins to stir. It's the place where I have stored away everything I don't want to look at. All the useless baggage that makes it hard to function; distracting things. Some painful things too. Each of them in a tiny lock-up of its own, in my dungeon of oblivion. One of these buried memories is rattling in its capsule at the sight of this woman. I'm willing it back into silence, back into the darkness. Things down there are locked away for a reason; I won't go there. No trespassing!
I focus on the conversation between Esme and... yes, this is Bella Black, and I don't know her. But my hands get all sweaty – maybe I do know her? I'm not so sure anymore. I hate missing links; they give me nausea. I like things structured. I like order. I make a quick inventory of names by different criteria; first names, last names, alphabetically, number of letters, sound. But there's not even a Bella by any other last name. Unless she's locked away down there? No trespassing.
My carefully adapted social skills seem to have dissolved into thin air, I need help. I try to make eye contact with Esme to figure out what I am supposed to say or do. A handshake? I probably should speak, no? Something like 'Nice to meet you'? Or 'Glad to see you again'? But Esme isn't paying attention to me. Instead she approaches Bella Black and gives her a hug. Like that, is it?
This is weird. I don't like weird. I want to get this over with; I just want to go upstairs and finally touch my piano and calm down. Copying other peoples' demeanor has always served me well, so I don't think twice. If a hug is the appropriate greeting here, I can do that. As soon as Esme releases Bella Black, I drop my bags and take her place. The woman puts her arms around my waist and hugs me back. She is small – my chin comes to rest on the top of her head, and there's that scent, and my stomach turns.
I can almost hear the crack, deep inside of me, down there... and I know it is that one mutinous capsule – it just breaks and shatters, and it isn't bad at all when suddenly all the pieces fall into place and I know she isn't Bella Black, she is... warm-easybella-cinderella-girlfriend-she-sings-and-her-dad-has-a-gun... and then my face is in her hair and I breathe her in and I want to speak. But all I can do is moan so loudly, even I know this is not part of an appropriate greeting.
But she rubs my back. Small, soothing circles on my back.
~~~~~~~~~~~~~~~~~~~~~~~~~~
"Little Green and Easybella" Website:
"Little Green's Little Lair" Facebook Page:
Betti Gefecht's Webpage (English):
Betti Gefecht's Twitter Page:
Betti Gefecht's Facebook Page:
A Four Letter Word by TeamEdwardAlways
Bella has crushed on her BFF, Edward, since high school; always knowing they were only friends. What happens when she finds "the one" to marry? Will Edward remain her BFF or will their relationship take a turn? AH/OOC/some usual & unusual pairings. Twilight - Rated: M
There are no spoilers in this review. All details mentioned you will find out in the beginning of the story though I do allude to the full story.
After years of crushing on someone deemed 'unattainable', Bella Swan moves on and opens her heart up to love again. With a big push from her best friends which include more than the usual suspects, she lets herself go at a Halloween party and meets Mike Newton. I know what you're thinking – MIKE?! Oh no no, I can't read a story about Bella and Mike. But WAIT, don't flounce yet. This is a Bella and Edward story, but it has a really great Mike in it too. Think of Ryan Gosling (hubba hubba).
This Mike is good looking, successful, polite, and all kinds of swoony. But let me back up a bit. Bella and Edward meet in high school. She discovers that all of the rumors she's heard about the beautiful boy aren't true… well, most of them and they become fast friends, best friends actually. From the moment they meet, Bella falls for Edward and falls hard. Edward the popular kid is never lacking for dates or love and she sits idly by watching women come and go from his life. He's not a manwhore (I hate that term) in this story. He's a normal teenager and then man in his twenties – he dates. She has a couple of long relationships also though she longs for only one. They remain close as they become adults and are always there for each other to pick up the pieces from broken hearts and relationships and drunken nights. But what Bella gets good at early on is holding her true feelings for Edward inside.
So when Halloween night and new opportunities arise, she's decides to finally let her crush go and take a chance at finding love – enter Mike. Charming and instantly attracted to Bella, he doesn't waste time, he doesn't hold back, he secures her number and her heart that very first night.
This story follows their courtship as well as her friendship with Edward and the gang that's her support system. Some of the characters we're used to seeing one way have been completely reinvented in new and fun ways which will make you smile and laugh. TeamEdwardAlways has a great way of making this story feel light-hearted, but captures the emotions of what's really going on inside of their personal struggles to find balance when a world you're used to gets shaken
The prologue is what grabbed my attention and this section in particular:
So, I thank that four-letter word – a word I thought I had a firm grasp of and had clearly defined in my mind until he came barging into my bridal suite – for fracturing my whole belief system and whole world into a million pieces. All because he decided to utter that four-letter word after all these years.
All because my best friend, Edward, told me he loved me – on my wedding day.
Yeah, just grabs you and makes you want to find out more. But I'll tell you, the ending is even better. I loved the journey thinking you know your life to be true, to be one way and BAM, it changes. It all changes and you're left with that sense of wonderment not knowing if it's a good change or bad change until… you do and it makes all the past and hurt and happy and confusion worth it. Oh and when I say I, I mean Bella. This story is well written and when I was reading it made me feel every emotion she did. I love when a story does that. Thank you to TeamEdwardAlways for a wonderful ride. This story is now complete unless the author wants to spoil us rotten with outtakes and the like then I'll greedily be reading them. Don't forget to drop her a review or more if you read AFLW.
All the Wild Horses by ElusiveTwilight
In her suffocating small hometown, Bella Swan meets widowed Edward Cullen. Can she pull him from the depths of his grief? Is there enough of him left to soothe her clawing loneliness? AUAH E&B. Twilight - Rated: M
So often when you read a fan fiction story, you get huge doses of drama, angst or humor. And while I love those stories, I find myself wishing for an author to write a story that captures the simple, truthful and touching daily life of person. All the Wild Horses by elusivetwilight captures that essence, weaving together a story so real and life like that you feel as though you are reading a memoir of two broken but slowly healing people versus a fan fiction story. Elusive perfectly captures life in a small town, the pressures a young girl faces when she's been scorned by love and is fearful to move on. And the depiction of a heartbroken ranchman, family tragedy marring his past and clouding his future is so honest; you may feel a tear in your eye as you read.
We begin in winter, just after the New Year and in the bleakest of seasons. Bella has been brought back home by a string of kicks to the gut by life.
I was a puzzle piece that no longer fit. All of my friends were either engaged, married, or pregnant. None of them could relate to being single, being alone in a small town where everyone knew your business. I should go out more, and my girlfriends tried to understand. But going out with them usually resulted in a game of 'Let's see whom we can set Bella up with tonight.'
The majority of the men in this town that were eligible were slim pickings; the good ones married or paired off or moved away. I'd been on a few dates, but found I just didn't know how to open up to guys. And everywhere I looked, there was Jake and I.
I adopted Shadow after I moved into my apartment. She was a kitten at the time, and it had helped to have a distraction, and let myself be vulnerable with something, someone.
Sometimes, it felt like I was walking this tight rope, and most of the time I kept my balance because somehow the rope was continually taut. Any slack resulted in moments like this, where I lost my balance, and I was falling with no net.
Daily, I told myself I was happy, it was a mantra, and it was something I had to constantly remind myself.
I wanted the life I was supposed to have, not the empty shell of the one I was living now. Work, home, sleep, and Momma and Daddy's for dinner on the weekend. I loved my parents dearly, but it got to the point where I changed from Sunday to Saturday, just so I wouldn't be alone on a Saturday night.
The sob that had been working its way up my throat, finally choked out, and I tried to hold it in. It strangled its way out of my throat, and Shadow lifted her head, her eyes blinking and half open.
Edward isn't faring any better. He's been lost since the loss of his wife and son. Getting up and going through the motions. But life's been so hollow for him.
My boots seemed full of cement after the grinding all-nighter. Once inside, I bypassed the downstairs and headed straight for the stairs. Each step was an effort, and I could feel myself wavering as I reached the bed. Barely able to fling my hat onto a bedpost, I crumbled onto the bed. In a daze, I pulled off my boots, they hit the wood flooring with a thud, and my clothes followed them. Lying back on the bed, I groaned as I pinched the bridge of my nose.
I was bone tired, tired of carrying all this shit around with me, tired of feeling so weighted all the time. The only time I ever left the ranch it was for a specific purpose: supplies or some emergency trip to town.
Otherwise I was holed up here, and I think I was slowly going crazy.
Maybe Eli was right; maybe I had my head up my ass. I just had no idea where to start, how to move on, and it seemed overwhelming.
My eyes slowly drifted closed, and for a moment I thought I could smell Maria in the room, on the sheets, on the pillowcase. I groaned and rolled onto my side, burying my face into the pillow.
But don't fret, dear readers, for the true beauty and wonder of this story is not only in the way elusive can capture sorrow realistically, but how she brings joy and love back into her Bella and Edward's life, allowing them to find their way to a better place together.
And once things heat up… well, let's just say this cowboy doesn't do anything halfway.
"Edward, you better not start something you can't finish."
I pushed my backside against him, teasing him.
"Is that a challenge, ma'am?"
"You bet your fancy belt buckle it is, Cowboy."
His other hand moved under my shirt, and he squeezed my breasts as he pressed himself against me. Sandwiched between Edward and the counter, I could feel every inch of him. I looked over my shoulder at him; his eyes were dark, hungry. His jaw was slightly scruffy.
"I want you." I whispered. I pushed myself back against him again, and he met me more than halfway.
"I need you." My voice was half moan, half hoarse whisper.
His face moved closer, and just before his lips met mine, he spoke. "Darlin', I'm gonna show you wantin' and needin'."
One of his hands slipped from my breast, ran down my ribcage and over my hip. It was slow, achingly slow, and I tried to be patient. We continued to press back and forth against each other, that belt buckle of his digging into my back, and I loved the sensation, but I needed more friction. His hand lifted my skirt, and I felt his calloused palm on the soft skin of my thigh.
His lips were still just touching mine, and as his fingers moved my panties aside, he kissed me, hard. We rocked back and forth, and his fingers rubbed against my slick flesh. He rubbed harder, and I whimpered as his fingers found the swollen sensitive nub.
His other hand squeezed my breast as his fingers worked over me. Edward continued to press forward, driving me crazy; he knew I wanted more but he held himself back. His tongue was thrusting with the rhythm of our bodies. I could feel my orgasm building, tightening in my abdomen, tension rising, and then finally my fingers curled on the counter top, and my legs were shaky as my body started to release.
His mouth released mine, and I panted as his fingers stroked over me, before moving away from my panties. My legs trembled, and I tried to keep myself upright.
Edward kissed my neck, and his lips lingered near my ear. "That was want. Now I'm gonna show you need."
And after they find that place, all you will feel is heartwarming love and happiness. So if you are searching for a sweet, sincere, and real story to read, look no further than All the Wild Horses.