We are uber excited to bring you the bi-weekly rec list of stories that have caught the attention of TLS! Be sure to let the author know where you saw their story featured & leave them some love!
♥ Nic & Six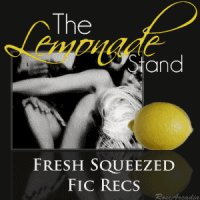 Bella Donna by JiffyKate-rec'd by Midnight Cougar
https://www.fanfiction.net/s/9175099/1/Bella-Donna
Edward and Bella are similar creatures; they both screw people for money, but one of them goes for blood. It's nothing personal...until it is. Rated M
Boxing Out by MeilleurCafe-rec'd by Everyfreakingbody!!
https://www.fanfiction.net/s/7534919/1/Boxing-Out
Bella is a little lost while trying to make a new life in the Big Apple. Edward is a Manhattan police officer who knows it to the core. They meet at court. Will this new romance be a slam dunk? AH; M for language and lemons. Rated M
Changing My Course by Twilover76-rec'd by Nic
https://www.fanfiction.net/s/8670473/1/Changing-My-Course
Sparks fly when two strangers collide in the dark. Will Edward star in Bella's future, or will the politics of her life be too much for him to handle? AH/Rated M
Cullen's Roadhouse by TGBMcCray-rec'd by Capricorn75/Sixdlb5
https://www.fanfiction.net/s/9828115/1/Cullen-s-Roadhouse
Bella Swan is adrift. She's got a worthless college degree, bills, two friends, a shitty apartment, and too many ex-boyfriends. Swearing off men seems like a good idea, at least until she can figure out how to pour a proper beer and make some cash at Cullen's Roadhouse. It's an apron that sets her off – an apron, some Levi's, and a tall glass of Diet Coke. Rated M
Cutlass by Tkegl-rec'd by Twilover76
https://www.fanfiction.net/s/7792629/1/Cutlass
Isabella Swan is certain notorious pirate, Edward Cullen, murdered her father and stole his prized cutlass. Out for revenge, she sneaks onto his ship, but Captain Cullen claims she has the wrong man. A tale of the search for truth…and treasure of course. Rated M
Dank by Nadiak-rec'd by Nic
https://www.fanfiction.net/s/9949005/1/Dank
She wants a thrill and she finds it in the bad boy from the dangerous side of the tracks. Watch them both intertwine themselves into worlds they never even belonged in. Learning the best lesson there is. We're all different but yet the same. Rated M
Lies by Scorpsifer-rec'd by Nic
https://www.fanfiction.net/s/9564720/1/Lies
"I love him. He loves someone else. Someone who is not me. And it doesn't matter. Every day I gave to him; I gave everything to everyone and every morning I would wake up with nothing. They say I love too much. Maybe they're right." Rated M
Lost and Found by Brodeurgirl30-rec'd by Nic
https://www.fanfiction.net/s/8616601/1/Lost-and-Found
The case was a famous United States Supreme Court decision in 1975, O'Connor v. Donaldson. Kenneth Donaldson, a patient committed to a Florida State Mental Hospital, sued the hospital and staff for confining him for 15 years against his will. I wish I'd been born in 1975. Rated M
Luckless by NinaQ-rec'd by Edmazing
https://www.fanfiction.net/s/8959415/1/Luckless
Everything about her was the same. Even after all these years, he'd recognized her, but it made no sense. There was no way she was the same woman. It couldn't be. He had watched her die. ExB. AU Rated M
Onscreen Chemistry by Winterhorses-rec'd by Nic
https://www.fanfiction.net/s/9928550/1/Onscreen-Chemistry
Bella, America's young sweetheart on screen, is starring in her first R-rated film. Her co-star is Edward Cullen, Hollywood's reputed playboy, and he won't give her the time of day. Will they fizzle onscreen as Bella attempts to turn up the heat in her first erotic scene, or can she cause a reaction powerful enough to burn through his arrogant, impassive facade? Rated M
Mask'charade by Chynnadoll36-rec'd by Nic
https://www.fanfiction.net/s/9796545/1/Mask-charade
Life is not always what it seems. Tired of feeling neglected in her marriage, Bella decides on a night out with colleagues. She meets a mysterious and gorgeous stranger and enters into a secret life of debauched pleasure. What happens when the stranger turns up in the place she least expects? AH Bella&Edward story Rated M for mature themes. Rated M
My Sweet Variable by LifeInTheSnow-rec'd by Everyfreakingbody
https://www.fanfiction.net/s/7762489/1/My-Sweet-Variable
He white-knuckles his pen, dragging a line of ink across the page. I can guess which passage he's marking: "All things truly wicked start from an innocence." Hemingway wouldn't have known about us. No one does. Teenage E/B, AH, quasi-dystopian. Rated M
Quarterback Sneak by Jayhawkbb-rec'd by Sixdlb5/Nic
https://www.fanfiction.net/s/8483034/1/Quarterback-Sneak
As a Seattle sports talk radio host, it's my job to give my opinion on the Seahawks new quarterback, Edward Cullen. But maybe I shouldn't have said what I did...you know, about his butt. E/B Rated M for language and adult content. Rated M
Rise by Rochelle Allison-rec'd by Nic
https://www.fanfiction.net/s/8612205/1/Rise
Bella is a bad boy's girl, living a life she no longer wants. She's trapped, until one of the things that keeps her confined - her bodyguard - becomes the very thing that could set her free. Rated M
Snare by Raum-rec'd by Midnight Cougar
https://www.fanfiction.net/s/8955111/1/Snare
"The lives of Charlie and Bella Swan were devastated when Renée was murdered by a serial killer: The Drainer. Charlie, a former FBI profiler, is convinced that the killer is a vampire, and that those creatures are real. Nobody believes him, till the day he captures one of the undead." Rated M
The Red Coats by Ericastwilight-rec'd by Jenn Granat
https://www.fanfiction.net/s/9938576/1/The-Red-Coats
She loves the holidays. He loathes them. As new neighbors, they have to learn to tolerate each other. The problem for Edward is that she's irresistible in red. Can she bring the Grinch around in time to save him from a lonely New Year? Rated M
This Side of the Equator by Jaxington-rec'd by Twific Crackmum
https://www.fanfiction.net/s/10020758/1/This-Side-of-the-Equator
On that side of the Equator a six year age difference is nothing, just a number that looses meaning in the face of adventures and shared interests and long bus rides. But on this side of the Equator, in Forks Washington where Bella is a teacher, six years are everything, an impenetrable barrier that makes life impossible when Edward Cullen shows up as an exchange student. Rated M
Troika by Mortissues-rec'd by Everyfreakingbody!
https://www.fanfiction.net/s/9332530/1/Troika
Waking up, not matter how long it takes, should be a wonderful thing. Powerful and liberating. Like emerging from the chrysalis. I should have known it wouldn't be like that for me . . . Rated M
True Confessions of a Coffee Girl by Deebelle1-rec'd by North Caro
https://www.fanfiction.net/s/9812023/1/True-Confessions-of-a-Coffee-Girl
A perfect cafe au lait was all it took for Hollywood's most eligible bachelor to fall in love with me...the coffee girl. Rated M
Wilderness by Inconcessus-rec'd by Mercyrus Tales
https://www.fanfiction.net/s/10026572/1/Wilderness
Bella has always felt disconnected from her Phoenix friends. The only time she feels comfortable in her own skin is on her yearly camping trip in the Washington Cascades with her dad, until they are joined by Charlie's new girlfriend and her son and nephew, Jasper and Edward. A story of survival, stranded in the mountains only with two boys she barely knows to keep her alive. Rated M