Stolen by Rochelle Allison
http://www.fanfiction.net/s/9101669/1/Stolen
He stole her heart, and then he stole her father's fortune. Love and forgiveness are nice concepts, but highly improbable. Right? Drama, romance, action, and a heavy sprinkling of the good stuff.
Reviewed by: FFpassion - Irene
When I was asked to write the rec for this weeks fic of the week I had a little panic attack.
How was I going to do justice to Rochelle's Allison words?
I love her work. I love the way she can take your heart from the highest of highs to the lowest of lows .
Stolen is another story that will make you laugh, swoon and cry. From the prologue you will feel the deep connection between Bella and Edward, it's very intense and will leave you wanting to know what the heck is going on!
Here's a little about the story...
Bella and her sister Tanya are in Miami to attend their cousin Bree's wedding.
They vowel to make the most of their holiday by sleeping in, drinking lot's and having fun.
It's while enjoying the sun and a few drinks with her sister and cousins that Bella first comes into contact with Edward...
Glancing around, I finally clue in. One of the waiters is standing nearby, hands in his pockets, smiling faintly as he waits for us to get it together. I assume his shift has just started, because we've been here all day now and I haven't seen him before.
But he's one of those guys.
Dimples and a killer smile.
Sunset hair and sun-kissed skin.
One of the beautiful ones.
"I, okay," I stammer, even though I'm a little light headed. The sun's going down, but it's still really hot, and I've been drinking all day. "Just club soda. With lime. Please."
All the girls are having so much fun telling Bella how he was checking her out but with Bella feeling the affects of the sun & drinks didn't think anything of it until he comes back with her drink...
But then he's in front of me like a mirage in the desert, handing me my club soda. There are plenty of limes inside, and a couple of cherries too, and I can't help but smile. He smiles back, running his fingers through his hair. Tanya pays him, and he thanks her, but then he's looking at me again. I sip at my cold drink, glad for the relief it brings, but inside I'm overheating at how his pretty eyes trail over me. Guess Tanya was right. I get the feeling he might want to say something, too, but then his co worker touches his arm, nodding toward another group that needs attention, and the spell is broken.
"Have a good one, ladies," he says, flashing one last million dollar smile as he walks away. He doesn't turn around this time.
There have been boys.
But never, ever a boy like that.
SIGH....
The story unfolds, Bella and Edward continue to see each other and they start to go out.
They have this amazing connection and their chemistry is off the charts.
Bella and Edward spend as much time as they can together and they both are feeling sad at the thought of not seeing each other when Bella has to go back home.
Knowing Bella's holiday is coming to a close she decides to make her last night one to remember.
After spending an amazing day together they find themselves back in Bella's room.
Edward sits on the edge of my bed, watching me. His tan is pretty dark, too.
"So, what do you want to do on your last night?"
"You."
He laughs quietly, cocking his head. "Oh, yeah?"
Ummm yeah, Bella knows what she wants and it's being with Edward.
As we all know from the prologue the night is everything Bella has dreamed.
In the morning Bella is alone with only a note left by Edward.
Bella is crushed :(
Morning without you is a dwindled dawn.
I hope you can forgive me.
I cannot tell you how happy I was when we got an update that was told from Edward's POV.
We get to see everything that has been going in Edward's life and how deeply he has fallen for Bella.
And then I do something I haven't done in months, maybe even years. It's not much, and it's silent, but it burns anyway.
I cry.
My heart... That last line left me in tears and I cannot wait to read more.
If you are not reading Stolen you are missing out, I promise you will not be disappointed. If you know Rochelle's work you know we are in for an emotional ride and one that will forever touch our hearts.
Thank you to The Lemonade Stand for asking me to write this rec.
Fill Me With Your Poison by Nolebucgrl
http://www.fanfiction.net/s/7007740/1/
Bella Swan's intrigued by vampires. Edward Cullen's bored and alone. What happens when they meet? AU, vampire. Rated M. Inspired by Katy Perry's ET. Rated M
*Huge thank you's to the lovely jarkin33 for this lovely banner*
Hard Hearted by Counselor
http://www.fanfiction.net/s/9338559/1/Hard-Hearted
1946. The boys are home from the war. Eddie meets Isbe at the movies. Rated M
Rescission by GeekChic12
http://www.fanfiction.net/s/9533161/1/Rescission
We met. We got off. We went home. We weren't lovers. We weren't even friends. We were f- buddies. It worked... Until it didn't. AH, ExB. Rated M for a reason.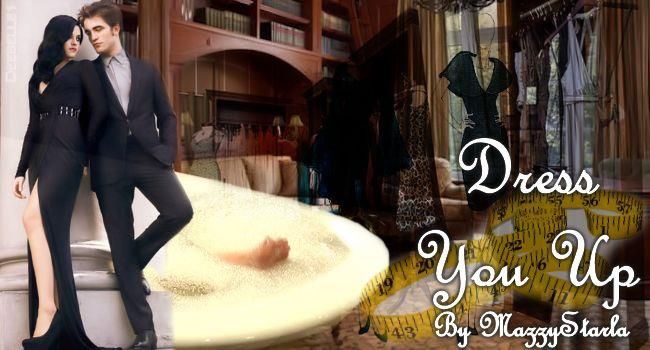 Dress You Up by MazzyStarla
http://www.fanfiction.net/s/8634731/1/Dress-You-Up
Bella Swan has everything she needs. She's an up-and-coming stylist, she owns her own boutique and she's got a great best friend, who knows her better than anyone. The last thing she wants is a man to slow her down. But then he shows up, and her world turns upside down. (AH) Rated M