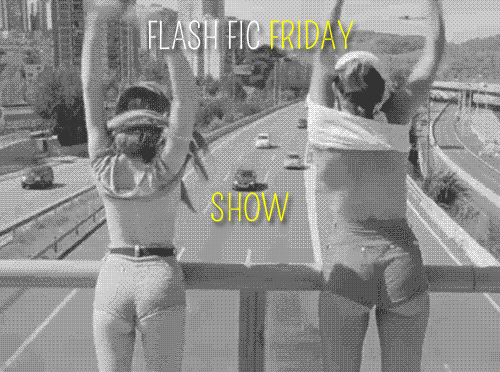 JOIN US EACH FRIDAY TO SEE WHO'S FLASHING US
Each Friday a new prompt will be posted along with the previous week's winners.
How does it work? Each Friday one admin of TLS
posts a picture prompt here to the blog. Using this image, entries are
created by commenting on this post. Submissions must be 100-300 words
ONLY. No more, no less. The entries are then judged and we post the
winners here, each Friday, to share with all of you.
THIS WEEK'S NEW PROMPT
You will have until next Wednesday at 9 p.m. EST to submit your entry.
Picture prompt and judge this week is
Twilover76
Please leave your submission in the comment section at the bottom of the post using this format:
Your name (use your Twitter, Facebook or FFN name)
Your link to your FFN profile if you choose to share it
Submissions will be judged on Thursdays and on Friday the winning entry will be posted here, on the TLS blog.
This feature is open to everyone, so come one, come all!
WINNERS CHOSEN BY PAWsPeaches
Thank you to all who entered this week, I enjoyed reading every single entry. Each of you embodied what the gif represented so well that I wanted to recognize all of you! I hope all of you have a wonderful week and thank you again for your words. Love, PAWsPeaches
FIRST PLACE:
@sparrownotes24
http://www.fanfiction.net/u/4244397/SparrowNotes24
Word Count: 300
"What're you doing up here?"
Trying to breathe.
"I drank too much."
"Me too."
The bed dips. Your head presses into the pillow, turned to watch me. Our eyes shaded in the dark.
"I want everyone to go home."
I never wanted them here at all.
"It's your party. You can kick them out."
"Yeah, but I feel bad. They've come to say goodbye."
Don't say that word.
You play with my fingers, counting my nails, tracing my knuckles. "I can't believe I'm finally going. What are you gonna do without me?"
You're the blood flowing through my veins, my heart's beat. The air that sinks into my lungs and lifts my chest in a rhythm of your making. My vital signs.
"I will most likely die."
You laugh.
I'm not joking.
"You will not. I'll be back before you know it."
It's not enough.
"I'll miss you." Your voice is weighted with intoxicated sleep.
A childhood spent in each other pockets yet my words have fallen through a hole in the lining. They dissolve unrequited on my tongue.
"I'll miss you too." A whisper only I hear.
.
.
I wake and wipe the dust of the night from my eyes. You're gone.
An impression in the crumpled sheets is all that's left with the heaviness of things unspoken.
Curling against your pillow, the scent of rivers and bonfires stutters a weak pulse that fades with the memory.
My fingers are clasped around my knees, pulling me tighter to hold the pieces together, when I see it.
Your scrawl, sliding up the inside of my knee in black marker, jump-starts everything.
I couldn't leave without telling you. I've only ever wanted you.
I chase the sunrise to give you my words before you leave.
I love you. Take me with you.
SECOND PLACE:
@GeekChic12FF
Word Count: 300
Seeing you walk into the bar makes my fingers falter on the strings.
You're more beautiful than ever.
My heart hammers against my ribcage as our eyes lock before you make your way to a table near the stage.
I haven't seen you in a month.
We've always fought like brother and sister, but this time was different.
I couldn't deal with your asshat of a boyfriend anymore, and you got tired of being in the middle.
Unfortunately, I was the one who had to go.
The small smile you give me makes warmth take root in my chest; I grin down at my guitar as I begin singing the next verse.
~.~.~.~.~
Removing my sweaty sock cap and running a hand through my hair as you approach me, I brace myself for whatever you've come here to say. We both said hurtful things to each other, but I can't lose you all together.
"Hey." You're smiling.
"Hey."
"Great set tonight."
"Thanks." My hand rubs the back of my neck. A nervous habit.
"I'm sorry," we both say at the same time.
"You go."
"I broke up with Jake. You were right about him."
"Oh, that's..." awesome "...too bad."
Your familiar snort relaxes me. "Yeah, well. I really am sorry for the things I said, and...I just want my best friend back. I miss you, Edward."
Best friend.
It's now or never. This last month just about killed me.
"Thing is..." The skin on my neck may not survive the night. "I really wanna be more than just friends."
Your wide brown eyes shimmer in the low light just before you launch yourself at me, your hand replacing mine on the back of my neck.
Catching you is second nature. Hugging you again helps me breathe.
Kissing you...is everything.
THIRD PLACE:
@PattyRosa817
http://www.fanfiction.net/u/1965286/pattyrose
Word Count: 300
Familiar
I flip the tab on the beer can and hand it over, taking a seat at his side.
"Tell me again what happened?"
When he'd called me from the club, all I could hear was Pit Bull rapping in the background.
He sighs a familiar sigh. Everything about Edward is familiar, my best friend since second grade when Mikey Newton snuck a caterpillar down my dress and Edward shoved a stink bug down his throat, instantly becoming, "My Hero."
I've never been more than "My Homegirl," to him.
"She said she was moving to L.A. and didn't see the point in staying together. Then she admitted that she was fucking her agent. The confession was preceded by an "I'm sorry," so I suppose it's okay." He shrugs and takes a drink from his can.
If his sarcastic streak is still intact, it can't be that bad. I'm the one who usually mends his broken heart, yet I'm never the one who gets to keep it.
I trail a hand over his muscular arm, wondering how it would feel to trace the path with my mouth.
"Tanya was high-maintenance, Edward. You need someone as easygoing as you are."
We open the sleeper sofa and watch a movie, falling asleep halfway through - also something familiar.
I wake to honking horns and blaring sirens seeping through the window.
Edward lies flat on his back, gazing at me in a manner that's not at all familiar.
He reaches out and tangles our fingers together. "How long have we been friends, Bella?"
"Fifteen years."
"Fifteen years," he echoes. "It's taken me that long to see…"
I know where he's going. I know everything about Edward. I've been waiting for him to see.
Our fingers laced together, they mimic what both our hearts finally feel.
HONORABLE MENTION:
@TinsleyWarren
Words: 297
Getting into a fight always seems like a better idea before it starts than when you're laying on your back licking your wounds and begging for no broken bones.
"Oh my god! Edward!" Bella leans down next to me, her hand covering her mouth as sobs threaten to escape. Her eyes pleading for me to be okay.
"I'm fine, just looking at the stars," I force out a laugh as I see the guy that tried to feel up my best friend huff and walk away. He won the fight, but Bella ended up by my side not his. I can't complain much.
"Edward Cullen!" She smiles as tears fill her eyes. I tug her down on the grass next to me.
She lays down and looks up at the stars with me, not saying anything for awhile. I know she's organizing her thoughts, because being her best friend comes with the privilege of knowing everything about her. So I wait, I give her the time she needs.
"Thank you," she whispers.
"You don't have to thank me."
"But I do. You saved me from a guy that doesn't know the meaning of the word no. You always do E, even at the first house party of our senior year you risked social suicide to save me."
I look at her and I know, I can't hold it back anymore. My hearts starts pounding as I spill my guts. "Bella, I will always save you. You're everything to me. I wish you would see the selfishness in my actions. Because the thing is, I really want to be more than just friends."
I hold my breathe as she twists her hands with mine and gives me her secret smile. "Oh Edward Cullen, I thought you'd never ask."
HONORABLE MENTION:
@bebeginja
http://www.fanfiction.net/~bebeginja
Word Count: 300
She opened the expected letter with apprehension. One per week while he was away, but this one felt heavy. She had sensed a shift in tone over the last few weeks, but refused to read too much into it.
~ A Serious Request For My BFF ~
B,
This is my last letter before I return home. I just want to say thank you for keeping your promise. For writing me. Being away has been tough, but your words helped close the distance of time and space. I love you to death, like, literally. You know that, right? You've been my closest, dearest friend for … well, forever. You know me better than I know myself (that pisses me off – you know that, too). You've been my cheerleader, and my reality check. You know my scars and who put them there. You know my darkest desires and deepest secrets.
But one thing you don't know is this: I want more.
I want to call you mine in the most complete sense of the word. I don't want to continue knowing all these things about you, about us, and just keep it at that. I don't want to pretend to be happy with what I get from you, and what I get to share with you. I'm not happy any more. I feel like I can't love with my whole heart until I can love with the part I have reserved for you. It's not fair, really. Or right.
I've thought so much about us. I know there's more to our story, don't you?
Have I ruined everything?
I know you love me, too. So, I guess I'm calling you out here.
~ E.
She stood frozen in shock, elation, and anticipation.
He comes home tomorrow.
He's wrong. She knew. She's known for a while.