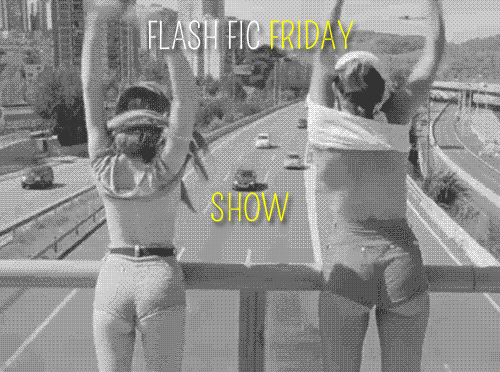 PLEASE JOIN US EACH FRIDAY TO SEE WHO'S FLASHING US
Each Friday a new prompt will be posted along with the previous week's winners.
What exactly is a Flash-Fic? It's pretty much a spur of the moment, tiny story, prompted by words, images or silliness. Not sure if you've ever been on twitter when this has happened, but it's pretty awesome when it does. It also happens often in threads, with a combination of people contributing.
How does it work? Each Friday one admin of TLS posts a picture prompt here to the blog. Using this image, entries are created. Entries must be 100-300 words ONLY. No more, no less. The entries are then judged and we post the winning submissions here, each Friday, to share with all of you.
THIS WEEK'S NEW PROMPT
Picture prompt and judge the week of 5/24 - 5/31 is by Evilnat.
You will have until next Wednesday at 9 p.m. EST to submit your entry.
Please leave your submission in the comment section at the bottom of the post using this format:
Your name (use your Twitter, Facebook or FFN name)
Your link to your FFN profile if you choose to share it
Number of submission. Example: #1
Submissions will be judged on Thursdays and on Friday the winning entry will be posted here, on the TLS blog.
This feature is open to everyone, so come one, come all!
Twitter name: @incog_ninjaFFn
profile: http://www.fanfiction.net/u/3923159/
It's that frustrating moment right before you're wet enough to take him, but you still want him right fucking now, and you just can't say it out loud. All you can do is lie there helpless, thighs spread wide and thrashing, back arched dangerously, head thrown back and chest heaving.
But he knows what you need – what you both need. He swipes his fingers over his tongue then slips them down between your thighs, slowly slides them around your clit. He gently pushes them inside your body and twists and pumps them. His thumb presses at the top and just to the side with a sensual grip over that spot that's throbbing inside and outside and everywhere for you.
You rotate your hips and buck lightly into his hand because you don't want to fuck it up. What he's doing is magic; it's exactly what you needed and you didn't even know it. You pray he never takes his hand away and that his maneuver isn't simple chance – that he knows what he's doing and that he'll keep on doing it.
You're suddenly gushing, and the silence in the stiflingly hot and quiet attic is broken by your cries for more more fuck yes more now please.
Then his hands are spreading you wider and his cock is pushing inside, where you're so fucking hot and wet and wanting. Just minutes before, you were frustratingly unprepared, but this man… he knows how to make you ready.
He knows how to make you sing and cry and scream. Just a few minutes more of him pushing and pulling, in and out, and you're muttering nonsense, clawing at his chest and back and shoulders.
Then you find out that he also knows how to make you come apart.
http://www.fanfiction.net/~everydaybella
He growls. His eyes are dark and a little twisted. He is big and powerful, and I cannot deny that those fangs scare me a little. My mother always told me to stay away from demons—so, why am I fixing to fuck one?
He grabs my hips, locks my ankles around his waist, and towers over me. "You smell amazing." His voice is rough and gravely, like it's coming from deep inside his chest.
My heartbeat thunders in response, and the rational part of my mind tells me to be afraid. I can't bring myself to feel the emotion, however. I know him perhaps better than he knows himself.
I bring my palm up to caress his cheek. The action is surprisingly sweet amidst the almost violent passion swirling around us. "You won't hurt me," I order him. His nostrils flare at the idea of being ordered around by a human. I don't give him a chance to dwell on it. "You've saved me too many times to kill me now."
He leers and his black, bottomless eyes make it clear that he wants me in more ways than one. "Are you sure about that, sweetheart?" He growls, and shivers of fear and excitement shoot down my spine.In answer I grind my pussy against the hard cock still inside his boxers. "You're mine," I declare, making it clear what I think about his teasing.
He licks three fingers coating them with venom before pushing them inside me with one hard grunt. "Mate."
Betty Lovegood (@LovegoodBetty)fanfiction.net/u/2048821/
The room was dark. I could only feel him over me as my eyes adjusted to the city lights entering from the open window. The warm summer breeze enhanced the whiskey-sweat-and-sex-scent surrounding us, and it drove me crazy. It seemed to drive him crazy, too. I felt hot with need for him. I hadn't even given him my name, but he already knew how and where to touch and kiss me to make me whimper breathlessly.
I'd dreamed of this many times from the moment I laid eyes on him weeks ago. But this wasn't a dream; there was no haze, and definitely no stopping. He was all mine and I was his... for however long he'd let me stay in his bed.
I thought I couldn't become any more desperate for him, having him shirtless, clad in only his boxers and looking down at me with bedroom eyes, ready to dive in. But I did, when he licked his fingers before repeatedly massaging right where I ached the most. He had a talent I'd never experienced. I was ready to climax after a few seconds. He caught one of my nipples in his mouth when I arched my back, grinding into his fingers, and he sucked just perfectly for me to fall over the edge. I could very clearly feel the electricity between us.
He didn't withdraw his hand as he kissed down my stomach and promised, "I've only just begun, gorgeous..."
Fuck, you're dripping, baby." His voice was a harsh rasp just above me. "See? I told you that you wanted it. I told you I could make you want it."
"Fuck you," I spat, just as he pushed two thick fingers inside me, spreading them, then curling them up against the spot that always made me whimper.Every single time.
"I am fucking you," he said, "First with my fingers and then...then, you know what I'm gonna do?"
I wanted to give him silence, but the whimper that escaped me told him clearly that I couldn't. It didn't matter that we'd been fighting. It didn't matter who was right or wrong. They were only words. They were nothing compared to the way he made me feel.
He slid his fingers out, pulling them up to his mouth and licking. And everything about him was filthy. His words, his tongue.
Because I wanted to watch, wanted to see him tasting me, sucking me off of his skin. But it didn't last.
"I'm gonna fuck you with my cock," he said, his fingers slipping easily inside me again. "I'm not even gonna lick your sweet pussy because you're so fucking ready for me. It's all over your thighs, sweet girl. But I'm not gonna do it until you tell me."
"Oh, god. Just...please."
"You're right, goddamn it," I cried, and he immediately covered me with the weight of his body. "You're always fucking right."
http://www.fanfiction.net/~mariahajile
Edward kept Bella's thighs from tightening around his head, but he refused to show her any mercy. He wanted her to remember what it was like to have his mouth on her, his fingers in her.
As her body began to calm, Edward raised his head and let his eyes roam her body. Over her stomach, between her breasts, up to her face… It was his favorite map in the world. It was a map of Bella.
"Oh, my God…" she panted.
It was music to Edward's ears. And heart.
He couldn't resist taking another lick of her pussy, to have another taste of what he did to her, which caused her body to jolt.
"Edw- Jesus Christ. Wait."
He climbed up and hovered over her body.
"What? I just wanted seconds. And now I want thirds," he smirked as he licked his hand and ran it between her legs, teasingly applying pressure with his middle finger.
He showed no shame as he brought his hand to his mouth and licked, relishing in the taste there and humming his approval.
Bella's chest rose and fell, as Edward did everything pure and sinful to her body.
But before she could savor that feeling, Edward's cock pushed into her, giving her even more to drown in. It was heaven and explosive, and she couldn't get enough.
Edward placed his hands on either side of her head.
"Open your eyes, baby," he whispered, and when she did, she couldn't help but stare into his.
He pulled out and in, rocked and swiveled his hips, driving her crazy.
"I'll never get my fill of you…"
AND even though this one is NOT at all a representation of the gif I have to include it because it's damn hot
http://www.fanfiction.net/~primarycolorsword
She'd stopped chewing, mouth hanging open, salt from the popcorn burning her tongue.
"Are we…umm." She was finding it hard to finish a sentence, or even a complete thought, her mind so consumed with the frantic couple on the movie screen. "Is this the right…"
Edward frowned. "I'd thought so," he whispered, shifting in his seat. "But I… wow."
Running late, they'd ducked into theater 10, giggling, spilling snacks on the multicolored carpet, assuming the gritty black and white scene was a trailer for some foreign film. French, maybe. Only they couldn't be sure. There hadn't been any words.
The man had the woman pressed up against a window now, pounding into her from behind. Breath frosted across the glass as she panted, fingers splayed, moans mingling with the wet sounds of sex.
Bella bit her lip hard. Every muscle in her body was strung tight, her heart racing.
On the screen, another man was watching the couple from the doorway, slowly unbuckling his belt.
"Fuck," Edward said in a strangled voice. He pressed Bella's hand to the front of his jeans, groaning when she rubbed lightly. "Come here."
"Theater's empty," he said hoarsely, throwing the armrest out of the way, dragging her onto his lap. He draped her legs on the outside of his and pulled her back against his chest, one hand pushing inside her panties, the other already under her bra, pinching, pulling. "Watch," he murmured into her ear, breath hot against her cheek.
The couple had finally made it to the bed, unsurprised when the second man crawled up beside them. Both men were on their knees, one fucking her pussy, the other fucking her mouth.
Edward bit her neck when she came all over his fingers.
"You liked that, didn't you? Naughty girl."
The Lemonade Stand would like to also thank all of the participants. We thoroughly enjoyed ALL of the entries!