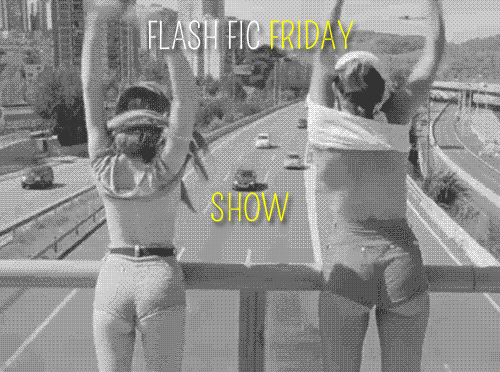 PLEASE JOIN US EACH FRIDAY TO SEE WHO'S FLASHING US
Each Friday a new prompt will be posted along with the previous week's winners
What exactly is a Flash-Fic? It's pretty much a spur of the moment, tiny story, prompted by words, images or silliness. Not sure if you've ever been on twitter when this has happened, but it's pretty awesome when it does. It also happens often in threads, with a combination of people contributing.
How does it work? Each Friday one admin of TLS posts a picture prompt here to the blog. Using this image, entries are created. Entries must be 100-300 words ONLY. No more, no less. The entries are then judged and we post the winning submissions here, each Friday, to share with all of you.
THIS WEEK'S NEW PROMPT

... and yes I'm going dirtay!
Picture prompt and judge the week of 5/17 - 5/24 is by Jaime Arkins.
You will have until next Wednesday at 9 p.m. EST to submit your entry.
Please leave your submission in the comment section at the bottom of the post using this format:
Your name (use your Twitter, Facebook or FFN name)
Your link to your FFN profile if you choose to share it
Number of submission. Example: #1
Submissions will be judged on Thursdays and on Friday the winning entry will be posted here, on the TLS blog.
This feature is open to everyone, so come one, come all!
LAST WEEK'S PROMPT AND WINNERS
PrimaryColors
@primarycolors1
word count: 300
We were always outside when the streetlights lit up, prowling the neighborhood in a pack of banana seat bikes and skateboards, popping wheelies behind the mosquito truck, light-headed, silly, laughing as we sped past the cemetery.
Edward and I rested on the hill behind the gas station, letting the others go.
I was glad I'd left my hair loose. Sometimes, if I stood close enough, Edward curled his fingers 'round the ends. I'd loved him forever and he probably knew it, but nothin' had ever been said or done.
"What'd y'have for dinner?" Edward asked, squinting into the sky like he couldn't care less. He did though. He liked to live vicariously through my dinnertimes since he never had a proper sit-down himself, his mom working so much.
"Daddy's outa town," I answered. "Em said I could do whatever I wanted so long as I don't blab that his girlfriend is sleeping over in his room." I cut my eyes over. "Maybe I'll stay out all night. Smoke cigarettes and have Krispy Kreme for dinner."
"Nah you won't," he said, laughing.
"I will!" I punched him on the arm for emphasis.
He sat up suddenly, holding my hand tight to keep me from hitting him again. My stomach flipped at the way he leaned over me, eyes bright.
"You won't. You're so…" he trailed off, swallowing hard.
"What?" I frowned. "Goody-goody? I'm not, I—"
"Pretty," he said softly. "You're so pretty."
"Shutup! That's a lie, Edward Cullen." My face was hot.
He shook his head, bemused. "If you say so."
"Alright then," I whispered. "Lie to me again."
Leaning close to my ear, "I love you."
"But--"
"Shh," he said, kissing the corner of my mouth. "Forgot to mention it's opposite day."
"So that means—"
"Not a lie."
SECOND PLACE
Sparrow Notes
@sparrownotes24
Word Count: 300
I beg you to save me from this. From him.
The man who's trapped me in his underworld nightmare for years.
His dark and cold sharklike eyes watch you. Waiting.
He smiles when you press cold steel to my temple.
My breath catches, blood freezes, hope dies.
"Why?" I ask you.
The sharp click of the safety deafens me.
"Collateral damage. You know too much."
"You were never going to help me?"
"No." Your voice is black ice. Treacherous.
"Everything was a lie?"
"Yes."
A laugh bubbles up, choking me. "Lie to me again."
"I love you."
You both laugh at the cruel words, and I know I'm going to die.
I close my eyes to the curled sneer of the man I'll never be free from. To look at him is unbearable.
"I trusted you."
"You shouldn't have."
I see now every whispered word, every secret shared, was a stroke of ink on my death warrant.
You are my fatal attraction.
"Kill her," he says.
My heart collapses.
Tears fall as memories disintegrate to dust. The heat of your lips against my skin, touches that consumed me as much as your promises. Too much and not enough.
A thousand decibels rip through me.
.
.
I wake with you by my side, reaching to trace my finger along the dark line of your jaw, making sure this isn't a dream.
"You said you didn't love me?"
"Bella, I fell in love with you the moment you smiled at me."
You brush the back of your fingers across my cheek to ease my confusion. "The truth was less dangerous than the lie."
"What was the lie?"
"I was."
You show me your badge.
Detective Edward Cullen.
You tell me it's over. I'm safe.
You killed him. You broke your cover, for me.
THIRD PLACE
Boom-Boom Jones
@boomboom_jones
Word Count: 300
His wife died. Her husband did the same thing.
Car accident. This big pile-up on the one-oh-one.
They left them to fend for themselves.
If only she hadn't told him to hurry up and get home.
If only he hadn't fought with her that morning.
Their hearts were open and full but then their hearts were ripped out of their chests and all that was left was a gaping hole and inside that hole a constant ache.
They were told to try a support group, because alcohol and pills weren't the answer. His sister made him go. Her therapist strongly suggested it, after her own accident. "Just go once, twice," is what they said.
It'd taken four meetings for her to say anything. He listened to some of it.
After the fifth it'd rained, asphalt glistening beneath streetlamps. He sat on the curb outside the church, smoking. His pack was almost empty. He ignored the others as they dragged by to go to empty homes. She stopped and bummed a cigarette, and then they went to a bar.
Support Group.
Bar.
Their routine for weeks until they quit group.
They said fuck it and drank at home.
They did this for months, a year.
He stayed over. Her sheets smelled of him, distracting.
His sister loathed her. Said, "You're not moving on."
Her therapist said, "It's self destructive."
They closed the door on the sister and the therapist.
Numbness stitched up holes that choked.
They had their unspoken rules. Knew what they needed.
Another year and they still functioned. Still had jobs. Paid their bills, taxes. Ate.
They had rules.
Naked backs touched. "Lie to me again," she whispered.
"I love you," he said.
"Now the truth," she said, phantom heart thumping.
He couldn't breathe. "I really don't."
"Me either."
HONORABLE MENTION
Agrutle on twitter/ffn and Gayle Whitlock on FB
Word count: 298
I had known Edward Cullen since he and I were eight years old. He was my brother Emmett's best friend, so he was around all the time. It was about that time that I became fascinated with him. I wouldn't call it love, more like hero worship.
He thought I was the biggest nuisance in the world up until we were in high school. It was there that the hero worship became a teenage crush and consequently lust. We couldn't keep our hands off of each other. I knew we would last forever, go to college together, get great jobs,get married and live happily ever after.
Sometimes though that isn't the way things go, other forces choose the way things happen. We did go to college together but Edward got a great job after in another state and he told me that the space would be good for us, and he didn't want me to go with him. He said he didn't love me anymore.
He left and I was heartbroken. I went to work and I came home, and that is all I did. How could he say for so long that he loved me and then just leave after all we had shared?
Two years passed and I was on my way back to our home town for my brother and his sister's wedding. I knew I would see him and it scared the hell out of me because I still loved him even after all he'd done and how long it had been.
When I saw him, and the look in his eyes I knew he still loved me and had lied. He reached for me and we fell into each others arms.
"Lie to me again" I cried.
"I love you." he whispered.
HONORABLE MENTION
Honeybeemeadows
Word Count: 297
Let's face it.
If I am a garden, my heart is full of weeds.
The kind with pretty flowers that you don't mind so much until there's no stopping the ravenous consumption. There's nothing left in my chest but a knotted ball of roots and dirt. My rib cage is held together with vines and when I wake up in the mornings, marigolds bloom out of my eyes.
Sugar blossom skin that bruises easy as a poppy and tears that taste like candied violets.
You can't see past the flashy petals.
------------------------------------------
"I have to tell you something."
"What's that, Sugar Plum?" I lick my lips while she fiddles with the hem of her tank top and pulls it over her head.
"I'm not who you think I am." She drops it to the floor and I clamp my mouth shut, eyes on her face. "I'm a fake." Off comes the short sleeve and she peels herself from her long sleeve. "It's all just a show." Reaches behind herself, unclasps her bra and dangles it from one finger before it joins the growing pile between us.
Rose colored nipples and peach flavored skin.
"Bella," I try but she shakes her head. Drops her skirt and then her lacy slip. Pulls off her leg warmers. Struggles out of her tights. Steps free of her panties. Stands there with her eyes on the mountain of clothing between us.
"I'm a liar."
"Honey, if this is lying, I hope you never stop." I shake my head at her.
"I'm too broken for you."
"Lies. Do it again."
"I can't love you," she pleads.
"Again."
"I'm not worth this."
"You're such a liar." I catch her in my arms before she wilts away. "I love you. And I'm not a liar."
HONORABLE MENTION
Word count: 274
---
"The date was awful," she said as she stripped off her shirt. "Total dud. I don't know why Kevin was under the impression I wanted to hear about rebuilding his engine, but he was seriously deluded."
Edward watched her take off each heel and her jeans without breaking stride. He lied when he promised himself he wouldn't let this happen again, that he needed for her to see how much he cared about her. In the end, Bella won out. She always did.
"I couldn't wait to get to your apartment," she said, pushing him back onto the bed and roughly taking off his shirt. "You don't know how much I needed this. Needed you."
"I always need you," he said as he firmly held her shoulders and looked into her eyes. "It should've been me taking you out tonight."
"But I came home to you, isn't that what matters?" she asked, slipping out of his grip and grinning slyly as she deftly removed his belt and jeans.
Three weeks. Three weeks in a row Bella had gone out with men who meant nothing to her only to show up at Edward's apartment and spend the night with him. She knew how he felt, but it wasn't enough for her. This would have to be enough for him until she changed her mind.
"You're the most beautiful girl I've ever seen," he said as she straddled him, lightly cupping the side of her face as he finally slid into her.
"Lie to me again," she whispered.
"I love you," he said sadly.
He knew she didn't believe him yet, but someday… someday she would.
The Lemonade Stand would like to also thank all of the participants. We thoroughly enjoyed ALL of the entries!
The Lemonade Stand would like to thank all of the participants. We thoroughly enjoyed ALL of the entries!