Letters to Corporal Masen by SolosinTwilight
Writing to offer a bit of home to a soldier overseas, she discovers words can bind a friendship. Lonely in war torn Europe, he finds hope in letters from a stranger. What happens when the war is over? Rated: Fiction M
Reviews by: lgk and AHoboDarling
Set during World War II, the author opens the door to the society that existed after the US had been embroiled in combat and death for a few years. Bella and her roommates, Alice and Rose are existing, living in a boarding house. Bella was working at a local library in New York but loses her job when the library closes down. Alice and Rose help Bella by introducing her to Esme at the hospital where they work and Esme sees in Bella someone who would fit in perfectly as a reader for the men injured in the line of duty. Bella's mother eggs Bella to write to a soldier, for the war effort, and the story thus begins. A portrait of both Bella and Corporal Masen is drawn through the words in their letters as they seek out the individual within as well as comfort from the other while the world outside is in turmoil. Sacrifices made by those at home as well as those on the front lines are evident as the author offers up life as it was during this time. Mini history lessons are cleverly woven into the chapters with additional information given by the author in her Author's Note to enhance or enlighten you even further. Not a history enthusiast? Doesn't matter. The writing alone will pull you right in, especially after you read the first letter from Corporal Masen. This is a story about hope and of giving of yourself unselfishly under stressful and uncertain conditions, only desiring that someone keeps you tethered to sanity in a world gone completely mad. This is one of those quiet, unassuming stories that will tug at your heart because of the conditions that exist during this time all the while involving you in the personalities as they are exposed through their words to each other. This is an engaging, extraordinary story, lovingly crafted, about ordinary people who are living through unforgettable times.
Using the deadliest war in human memory as the backdrop for her latest story, Solostintwilight merges history and emotion to create a truly beautiful romance.
"Who's it from?" I asked absently, looking at how it must have been rained on and beaten up in transit.
I never received mail. Pop was in the Pacific last I heard, and Renee was in the city. She'd never write.
"It's from a Corporal Masen," Rose said from the table, smirking.
Through Bella's point of view, the author introduces the reader to her, her friends and life during World War Two. We learn that this Bella is a book lover and an introvert by nature. She's very recently lost her job at a library and is unsure as to what she's qualified to do, beyond that. Her best friends (who are also her roommates at a New York City boarding house) both work at a hospital but Bella is nauseated by the sight and smell of blood and too clumsy for factory work. But lacking other options, she goes to the hospital, hoping that she will find work that she won't be terrible at or dread. An astute Nurse Esme notes her strengths and suggests that Bella read aloud to a ward of wounded soldiers. Bella accepts, thinking all the while of her lonely pen pal, Corporal Masen.
I am a Corporal in the 1st Battalion, 502nd Infantry Regiment of the United States Army. I've been in the Army for over two years now, and have been here for almost a year…..I don't get much news from the States. Both of my parents died shortly before I joined so I can simply say that getting a bit of news from stateside is a luxury I have not had in some time. Receiving your letter was a very pleasant surprise. I didn't realize how much just a simple piece of paper with writing on it could mean so much. But it did, so thank you for finding the courage to do so.
The reader gets to know Solostintwilight's Edward as Bella does, through his letters. He writes to her of his parent's death and, finding himself alone, of subsequently joining the military to escape his life in Chicago. We learn of his love of fine literature, music and note how much he and Bella have in common; both craving quieter pursuits and peace over some of the more raucous activities that Alice and Rose attempt to get Bella to indulge in. The author stealthily drops hints not only of the character's personalities and pasts in their correspondence but of era-relevant information.
I came in from the field today and was greeted with four of your letters! I cannot tell you just how much it meant to me to hear my name called out and to receive a stack of letters, rather than not hearing my name at all. My pals in my unit are quite envious. You have a real honest to goodness fan club here.
No girls back home, and we honestly have very little time here to search anyone out, even on leave. I know a few boys in the flight crews have steady dames, but I don't think I could in good conscience lead a lady on for my own pleasure when death could be just around the corner for me. I am in the minority I suppose, but I when I pledge myself to a woman I want to guarantee to her that I will be there to protect her and provide for her, and I have seen too many here receive that dreaded letter from a girl back home stating that they had moved on.
I could not expect a girl to wait for me, only to lose hope and possibly myself in the process.
While thankful for the time and effort that Bella is putting into her letters on his behalf, eventually Corporal Masen tries to create some emotional distance between them. Seeing some of the terrible things that he has and not knowing if he would make it back alive would understandably effect how he viewed relationships. He could tell from Bella's letters that she is a kind and sensitive girl and didn't want to put her through anything that he didn't have to.
Bella's reacts to his statements about as you'd expect and how many of us would react in her place:
It doesn't matter, we're just pen pals, Alice," I said, thinking again about what he had said about being single and not searching out a love interest.
It left me feeling a little bereft. I was a friend. A pen pal and nothing more.
But FEAR NOT! Edward's attempt at avoiding any emotional attachment to Bella doesn't last very long and Solostintwilight has her receiving a letter containing these words from her Corporal:
I did not mean to devalue our friendship by alluding that you were simply someone to which I would correspond with and that it did not mean more to me. Your letters mean more to me than anything I have known. I cannot explain it. When the afternoon arrives when I am on base, and I hear the announcement of mail call, I feel an adrenaline rush at the possibility of hearing my name called.
Your letters are the singular thing that enables me to work harder, strive to succeed in our assignments, if only to get back to see if there is a new letter from you, telling me about your day or what you are doing. I cherish every word, and am selfish to want more from you.
But if I were to have a girl to love, and love me back, I would want one like you. Your kindness has made me hope for a reason to come home. I would be the luckiest man alive to find a girl such as you. The man who captures your heart will be a very lucky man indeed. Do not offer it lightly. Make sure the man you give your heart to is worth it. Don't squander it away only to be left starving for the attention and care you deserve.
I do not have a death wish anymore. I want to come home.
You make me want to come home.
Ahhhh….don't you feel better? I feel better!
I had tried without success to try and stave off my feelings for my corporal.
"Oh Edward," I whispered.
He had no idea that my heart was already his.
And if I could be Edward's reason for wanting to come home, I would keep up the cause.
Because my heart was his. I'd deal with the damage to it later when he refused me.
For now, I would be his reason to come home.
I believe every man should have a reason in his heart for this war. So when I read that I have given you a reason, it made my heart soar. Not because I have expectations of a romantic relationship with you, but that you have invested in me the desire to fight and to come home.
With a little more than a dozen chapters, Solostintwilight has created utterly fascinating characters that the reader can see struggling on some many fronts, the war with their inevitable feelings being just one of them.
The story is at a wonderful place to start, if you've not yet had the opportunity to do so. Because Bella? No matter what, she's all in. Heart and soul, regardless of how her Corporal feels about her. And Edward tried to be the gentleman and warn her away, tried to opt out. But like canon Edward, he just can't stay away from her. He needs her letters and craves the kind words that she's compelled to share with him.
Please join Solostintwilight's Bella and Corporal Masen on their journey. Read their letters, learn about their world during war time and watch them fall in love. I promise you that you won't regret it.
Wicked Little Girls by JadoreJAC
She was the type of girl rockstars sang about. She was sweet, sexy, with a devil's body and wicked intelligence. Impossible to ignore, the girl next door...literally. I was so screwed. Rated: Fiction M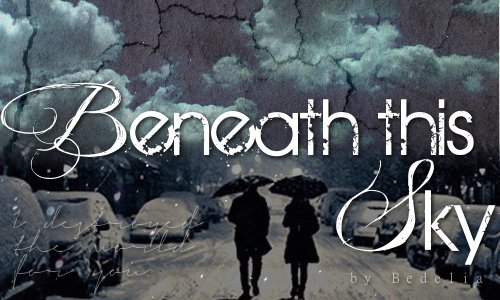 Beneath This Sky by Bedelia
Nineteen years ago, time unraveled. In a changed world, Bella fights to save a man from the past and a girl with no future. AU. Rated: Fiction M
Love in Idleness by Plummy
"...for aught that I could ever read/Could ever hear by tale or history/The course of true love never did run smooth." A little Edward. A little Bella. A few fairies, and a robot. Into the woods we go. Twilight meets A Midsummer Night's Dream. Rated: Fiction M
Original Six by Cullenbug
http://www.fanfiction.net/s/7712066/1/
The Detroit Red Wings have a host of hot NHL talent including all three of the Cullen brothers. Join them on their journey of travels, hockey, marriage, babies and a happily ever after. Usual suspects, mostly cannon pairings, snark and citrus. ExB Rated: Fiction M