The Best Thing I Ever Did by WhatsMyNomDePlume-rec'd by Jaime Arkin/Nic
Mini-sequel to The Best I Ever Had for FGB. Rated: Fiction M
Review by: anniej13
First things first, if for some reason you haven't read The Best I Ever Had, you should immediately do that. Right now would be a good time. I'll wait right here...then you get to indulge on The Best Thing I Ever Did, which is what whatsmynom generously wrote as her Fandom Gives Back piece. A team was formed to win an outtake of TBIEH. What did she give us? A lovely little mini sequel of sorts. Six chapters plus an epilogue with one of the most amazing and funny and sexy Edward and Bella's we have. Honestly it stands on its own as well.
It picks up about a year into Edward and Bella's "way more than friends" relationship. Rose and Emmett's wedding is weeks away so everyone is swept up in the busyness of it all. Now we know Bella isn't one to be all dreamy over weddings. She's happy with her life and Edward is a major part of it. No need to rock the boat, right?
"What could they be planning? The wedding is less than two weeks away," Alice says. "And Rose would flip if she didn't have utter and absolute control over every part of it. Rose and Emmett might be the ones getting married, but really it's Esme and Rose's wedding."
I laugh, nodding in agreement. "I mean, I can only hope she gets this out of her system before Edward and I… you know. Whatever." I wave my hand.
Alice grins and hugs me to her side. "Aww, look at you. Vaguely insinuating long-term commitment with hand gestures." She places both hands over her heart and pretends to tear up. "You've grown so much."
Thanks to a little conversation with Alice in the first chapter Bella finds herself reluctantly obsessed with the possibility of Edward proposing to her. Or not. She's starts acting even more like a crazy person.
"Do you think… I mean, it totally makes sense. Don't you think he's planning something?"
"Edward?"
"Yeah! He's planning a surprise for your one-year anniversary," Alice says.
"What surprise could he be planning that he needs Emmett's help? I doubt Em's thinking about Edward's and my anniversary. It's like three days after he gets married."
"It's two days. You're so bad at math."
"What?"
Alice rolls her eyes. "Em and Rose get married on the Saturday before Valentines' Day, which is two, not three, days before Monday, which is your anniversary."
"Fine, whatever. The point still stands. What would Edward be bothering Emmett about this close to his wedding?"
"Maybe…" Alice's eyes widen. "Maybe he's getting advice on how to propose."
I nearly drop my coffee.
"He's not proposing," I tell Alice, sounding more sure than I am. He's not proposing. He's not.
He's not.
Is he?
And so it begins. Bella obsessing over if and when Edward will propose. Bella can sense that he is hiding something yet he refuses to tell her. It's absolutely hilarious. She drives him crazy. And continuing with the format of TBIEH, the story is told from Bella POV, but at the end of each chapter we get a snippet of Edward's POV. In this case each chapter has his POV of the night he HAS proposed. It's really quite brilliant the way she weaves it together. And Edward's POV will melt you into a puddle on the floor.
"You get me going," you tell me as you remove my shirt. I like the sound of that. "But still… I feel like we should be doing something special. Something different."
"Like what?"
"I don't know… maybe we should do it outside? We haven't ever really done that."
"It's February."
"Good point. Maybe dirty talk? We don't really—"
I cover your mouth with my lips to get you to stop. "How about no talk?" I say, kissing your breast on top of your bra before nudging it away with my nose and then kissing the same spot again. When you moan, I can feel the vibrations against my hand. I like to make you shake.And after that there's no talk for awhile because there are no words that can adequately describe this. We touch and move, rub and taste, and it's amazing, like it always is. But you asked me for something and I have to at least try to give it to you.
"I don't know about dirty talk," I say, barely understanding how I form words as I move in and out, which makes you move in a way that blows my mind. "But how about I tell you that I want you like this, always, with me and on me."
"Edward," you moan quietly, and move your hips faster. I think that means you like it and that only spurs me on more.
See what I'm saying? I just adore him. I think this should be the official reading material for all boyfriends and husbands. With a note: 'Read this and learn. Thanks. I love you.' Haha
I don't want to give away the entire ending but I'll share the first time Bella thinks he's going to propose. Upon seeing a Tiffany's bag on the dining table she knows this is it. I couldn't stop laughing when I read this.
I'm still standing in the same place, staring at the Tiffany's bag, when Edward walks out of the shower. Without thinking, I blurt out, "If you get down on one knee in that towel, your penis will stick out."
His face creases in confusion. "Well… that's a strange thing to say." He walks over and kisses me quickly, like he always does when I come home. Laughing, he says, "And why exactly am I getting down on one knee?" Uh oh. Oh no. Oh god. He's not going— "Don't guys only do that when they're about to propo…" He trails off when he spies the bag on the kitchen table.
But instead of going into shock-freak out mode like I have, he just laughs again. "That? Those are the wedding rings. Em asked me to hold onto them since I'm the best man." I don't say anything and he snaps in front of my face twice. "Wedding rings, Bella. Rose and Emmett's. Which means not yours and mine."
I wish I could just say something coherent, but my brain is going a million miles a minute. I'm supposed to be relieved that he's not proposing; I'm me, Bella Swan, so commitment-phobic that I got skittish when I joined Netflix.
"So it's not an engagement ring?" I say, slowly.
He keeps one hand on the knot on his towel and cups my cheek with the other. "No, it's not. I'm not proposing. I know you have reservations about marriage; I am not going to push you into anything."
"Okay," I say, still completely bewildered and caught off guard. Because yes, I used to be really scared of settling down… until Edward. I'm not that girl anymore; I'm the one who spilled the beans about us dating to our friends; I'm the one who suggested moving in together and I'm the one moved my stuff in here. I'm still an idiot, of course, because I balked when Alice suggested that he might propose, and somehow didn't even realized that in the last few days, I've started looking forward to his proposal. Edward has changed me for the better without even trying. Maybe because he wasn't trying.
Isn't he the sweetest? He knows her so well. But he's not aware of her sudden change of heart, yet. There are multiple incidents where Bella continues to think he's going to propose. Our boy is no dummy and you can bet when he does do it it's well worth all the theatrics and guessing. Bella's mission to annoy Edward into proposing is full of endless laughs. I am so tempted to quote more but that would defeat the purpose.
I really can't say enough good things about these two. I sincerely hope these two exist in real life and they're are out there living their lives together.
Whatsmynom has an amazing talent at writing dialogue and building her characters and the world surrounding them. It's natural and witty and flowing. It will make you laugh hysterically and swoon swoon swoon. This is all fluff here, you guys. Sometimes we all just need a little fluff.
This is one of my favorite stories to re-read, both TBIEH and THTIED. It will always put a smile on my face. So please drop in and give it a read. I promise it will become (if it's not already) one of your all time favorites. xo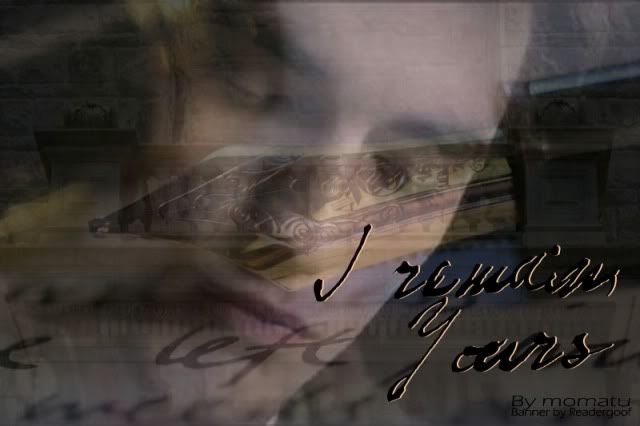 I Remain, Yours by Momatu-rec'd by PAWsPeaches
Bella is unexpectedly given an antique desk that once belonged to Edward, and in it she finds a letter he wrote to his cousin in 1918. She responds and sets them off on a journey neither could ever have expected. Perhaps there are some things we aren't meant to understand, just accept... Will eventually contain character death - NOT Edward or Bella. Rated: Fiction M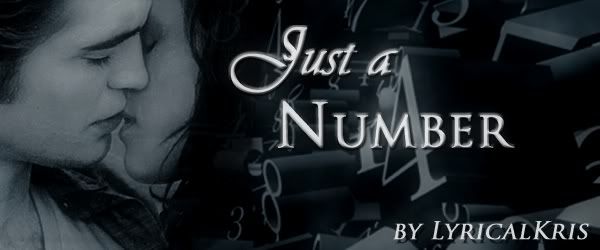 Just a Number by LyricalKris-rec'd by Nic
Numbers are often invisible obstacles. For Edward, a significant age difference between him and Bella dictates the confines of their relationship. Can Bella teach him that sometimes a number is just a number? Rated: Fiction M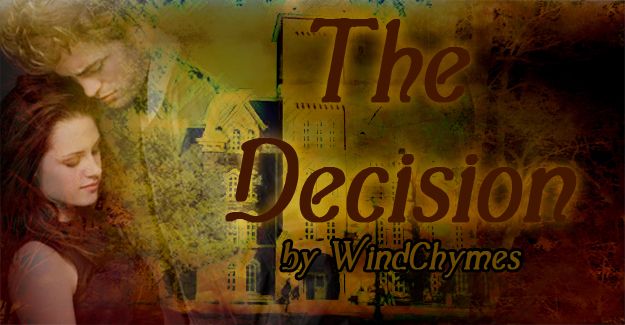 The Decision by Windchymes-rec'd by Suebee Betafairy
Edward made a decision after that second biology lesson. Two years later that decision is challenged. Rated: Fiction M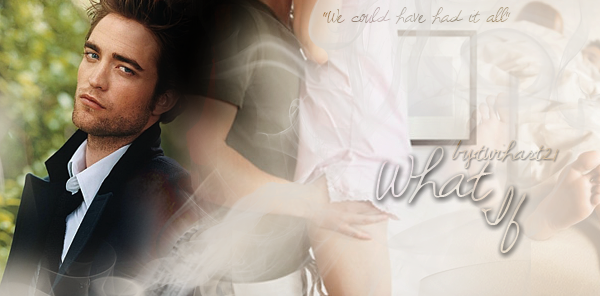 What If by Twihart21-rec'd by Soapy Mayhem
Edward is a successful defense attorney living in LA. He lives a lonely, predictable life. But one day, he wakes up in an unfamiliar house, in an unfamiliar room with Bella laying next to him. Will he ever want to wake up from this dream? AH EPOV Rated: Fiction M