The Cullen Campaign by Belladonna1472
http://www.fanfiction.net/s/5853742/1/The_Cullen_Campaign
Edward Cullen and Isabella Swan both have parents who are powerful on Capitol Hill. Problem is, their families are political enemies. What happens when Democrat!Edward and Republican!Bella bump into each other at Union Station in D.C.? AH. ExB. COMPLETE. Rated: Fiction M
review by luckyirishtart
I've read a lot of fics in my time kicking around the twi-fandom, and there are many that have made me cry, laugh and even squirm in my seat. But this fic, this fic especially, is one of my all-time favorites. It touched me the whole way through and is backed up by witty, charming and at times downright hilarious dialogue. Belladonna1472 has created a story that I will go back to just to fall in love with the characters all over again.
And with election time once again upon us, it's a perfect time to revisit a red and blue love story with a generous side of politics.
Told in alternating points-of-view, the story introduces us to Bella Swan (R) and Edward Cullen (D), who inadvertently run in to each other in a D.C. train station… and, boy, do the sparks begin to fly! There are other forces at work though, and the heated discussions that come from not only being on opposing sides of the party line, but also opposing political families, ultimately serves to build a rich and rather delectable sexual tension.
You can feel it as a bit of covert flirtation strung between barbed quips launches these two into a desperate, fumbling encounter on a swiftly moving train.
"In a bold maneuver, I lean over the armrest and reach down to put my hand on her thigh. I want her out of her jeans. Now. She leans towards me. I'm close enough to kiss her - my lips graze the soft skin of her cheek, teasing her.
"I want to claim my prize right now, actually," I whisper huskily while squeezing her thigh.
Her response is just as playful. "I want you claim it too. Against the bathroom wall."
And like the aforementioned train, this story grabs on to the rails and takes off.
With both plenty of plot and sexy-times, the story evolves into intrigue as these two across-the-aisle personalities start to want more and more of each other. But, of course, like any story where you start to root for these two, there's that catch that makes you keep reading: Bella's father is Senate Majority Leader; Edward's mother is Speaker of the House—and those two happen to despise each other.
I love how belladonna1472 used the family angle as a device to keep these two apart, not only because it is different from some other star-crossed lovers plots, but because it made the fic so much fun to read. Background characters that add to the story? Sign me up!
So, what to do when two people are attracted to each other, but, because of the intense political rivalry between the families, it's just not feasible? Answer: they decide to keep it on the down low in fear of repercussions, and embark on the friends-with-benefits route. As we quickly find out, even that seems to be not enough for the both of them.
Enter the name of this clever story. Edward decides he needs to come clean and embarks on what he calls 'The Cullen Campaign':
"You mean something to me. So if I look at you like I care about you…I won't apologize for that."
So you know what's coming…once their families find out, all hell breaks loose. The way it happens? One of my favorite scenes. Ever.
On rereading this again for the umpteenth time, I found myself smiling, sighing and clutching at my heart a little, too. The beauty of fic is that we get to see our favorite characters fall in love in so many different ways. Who knew that a Republican and a Democrat could make it so sweet?
A Thousand Leaves by Bellasunshine
http://www.fanfiction.net/s/6276284/1/A_Thousand_Leaves
Isabella Swan grew up as the best friend of Alice Cullen, younger sister of Edward Cullen, who was never nice to Bella despite her being an "honorary Cullen." Everything changes when Edward is sent to prison for the murder of Bella's mother. Rated: Fiction M
Evading Edward by VampiresHaveLaws
http://www.fanfiction.net/s/5399084/1/Evading_Edward
Bella's first encounter with Edward instantly leads to a mutual dislike. She is the new girl in town that has attracted more than one admirer and he's the boy who usually gets what he wants. So how will one evade when the other is set to conquer? AH Rated: Fiction M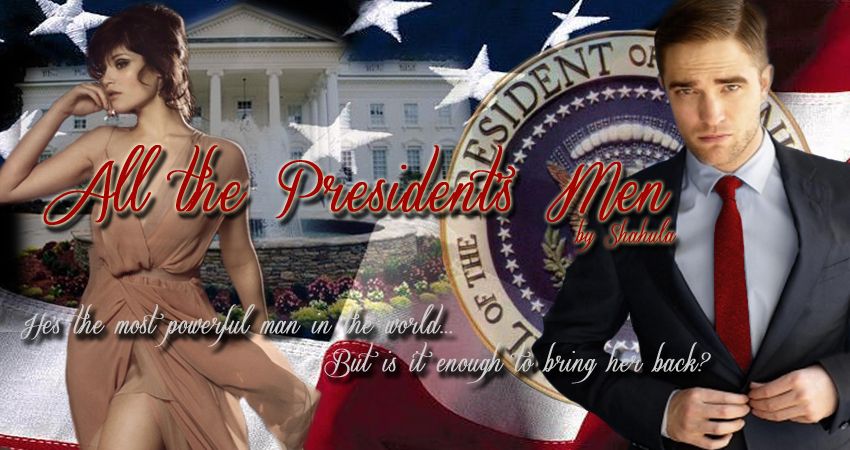 All the President's Men by Shahula
http://www.fanfiction.net/s/8284901/1/All_the_Presidents_Men
He's the most powerful man in the world, with nothing beyond his reach or influence. But is it enough to bring her back? Only time will tell. Presidentward. AH, Rated M
Going For the Gold by Bethaboo
http://www.fanfiction.net/s/4483468/1/Going_for_the_Gold
Edward Cullen, an Olympic swimming star, goes to Beijing with winning gold medals on his mind, but is distracted by the beautiful but clumsy reporter he meets on his way. All Human AU, co-written by tameleine. Rated: Fiction M