Adult Book Store by Cosmogirl7481
http://www.fanfiction.net/s/8257244/1/Adult_Book_Store
Bella drove past every day…curious, frustrated, repressed and longing. Secretly needing something, but too afraid to ask. Until one day, she wasn't. Rated: Fiction M
(find her on twitter at trixieandtess (Jenny Kate) you can also check out her collab account on FFN: JiffyKate)
Bella drove past every day…curious, frustrated, repressed and longing.Secretly needing something, but too afraid to ask. Until one day, shewasn't.
What do you get when you combine a curious, sex deprived Bella Swan with anenticing, sexually charged Bookstore?
You know those fantasies you have. The ones where you do something that istotally out of character for you. Some of us only dream about doing suchthings. We keep all of the fantasies in our minds, never acting on them. Some of us dream, until one day, we act on those fantasies. That's whathappened to Bella.
"Bella wanted to be dirty.But she wasn't."
She had dreamed and fantasized until she couldn't any longer. One latenight/early morning, she was forced into the Adult Bookstore that had beena muse for her fantasies.
Was it something more than sexual desire that lead her there? Was it fate?
Haven't we all wished and dreamed that Edward worked at our very own AdultBookstore? No? Just me...oh, and Cosmo, of course. Hmmmmm...
"And then he was gone. But he wasn't really gone – he was just standingright next to her, pulling down his pants. And the moment she saw his cock,she lost every thought in her mind."
Yeah, I would have lost my damn mind, too...and everything else. HOLYGEEZ!See, Jiff warned me...she told me this came with a ShamWow warning and Ijust blew it off...now, I know I should have listened. Don't tell her, OK.She'll just say "I told you so".*ShamWow Warning*
I would recommend reading this when you have time to take care of business. The awesome thing is that it is a short story, so you can re-read itanytime you need a little fuel for the fire. I really love that it is toldin BPOV and EPOV. You get to see in both of their minds, which is awesome. I would love for Cosmo to expound on this story.
Expectations & Other Moving Pieces by Chrometurtle
http://www.fanfiction.net/s/5440859/1/Expectations_and_Other_Moving_Pieces
Everything I had done in my life seemed to lead up to this moment. The moment when I found myself bound inextricably to a man I didn't love, trapped in a life I didn't want. And if I left him, I would be entirely alone. Rated: Fiction M
Parma High by Lady Gwynedd
http://www.fanfiction.net/s/6611650/1/Parma_High
A fresh start for new teacher, Bella, who arrives in sunny Parma to teach English in the local high school. So used to going with the flow, she was curiously dissatisfied with her life. Will she continue to settle for Comfortable or will she find Amazing. Rated: Fiction M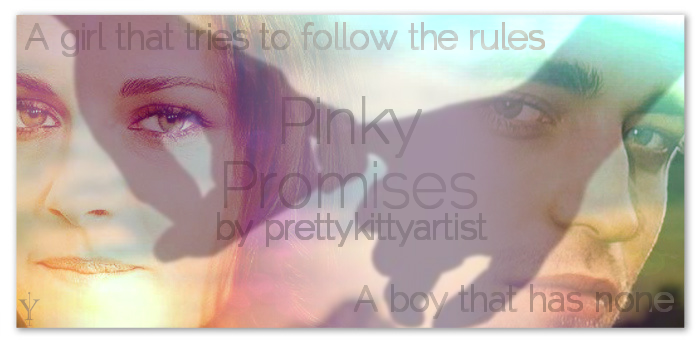 Pinky Promises by PrettyKittyArtist
http://www.fanfiction.net/s/8280925/1/Pinky_Promises
A girl that tries to follow the rules. A boy that has none. What happens when the rules just don't make sense anymore? Rated M
Water Landing by Camoozle
http://www.fanfiction.net/s/7588907/1/Water_Landing
High School's a lot like a plane crash. You check for the exit. You secure your mask. And if you're lucky, you survive. AU, AH, All EPOV. Rated: Fiction M